Wedding Supplier
No Broken Vows in Wedding Photography
By Jennifer Federizo
April 2011
It is one thing to make a promise to deliver good wedding photos. It is another thing to make good of that promise. And that's what Ariel Javelosa and his team of wedding photographers do best – their vow is as sacred as yours when you finally walk down that aisle towards a lifetime of marital bliss.
So when they pledge to bring in their "…distinctive style and fresh approach to wedding photography in the Philippines," rest assured that they will deliver, rain or shine, come hell or high water.
The Ariel Javelosa Touch
The Ariel Javelosa Photography and Videography studio began the way most businesses do, starting from scratch. For Gabriel 'Ariel' Javelosa, it meant starting in a really small studio in San Juan, Metro Manila in 1988, behind a wet market. Service was limited as the then-St. John's Studio only took ID-size pictures and offered limited video coverage. That seemed hardly enough for a studio, and for a man who wanted to offer more and be more.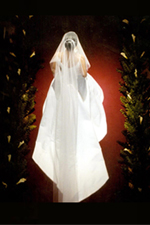 That didn't deter Ariel, however, from reaching his goal, that was, to carve a name in the Philippine Wedding Photography industry. So in a span of one year, a branch opened in Sta. Mesa, Manila. Five years after, another branch, the Gabriel Javelosa Photography, opened in Mandaluyong City. Bigger spaces translated to better photography services. Photo and video coverages were now available for all occasions, particularly for weddings and debuts.
The two wedding shops delivered the best possible customer service they could offer. It was a commitment they held steadfastly on. In fact, in their desire to give their best, 'Mang Ariel' and his crew of wedding photographers got better through the years, expanding their knowledge in the field of photography and videography.
The company is now a member of several local and international photographers' associations such as the Wedding and Portrait Photographers of the Philippines, the Wedding and Portrait Photographers International, and the Wedding and Event Videographers Association International.
All these, they accomplished through sheer passion, perseverance and dedication.
The New Ariel Javelosa Photography
In November 2005, all three branches were closed down…to make way for an even bigger wedding photo studio! Mang Ariel felt it was high-time to up the ante. It proved to be the best idea of all. Ariel Javelosa set up one of the largest – if not the largest – local wedding photo studio in the Philippines.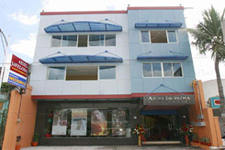 A four-storey wedding photo studio, built in 2009, now stands at 320 Barangka Drive, Mandaluyong City, Metro Manila. This is the new Ariel Javelosa Photography and Videography – a 200sq.m. fully furnished establishment that houses the well-equipped photo studios on the first floor and all the production rooms (for editing, photo album work, and workshops) on the second floor.
According to Ariel Javelosa, "I put up this building to accommodate more clients and facilitate higher quality services." It is the realization of his dream: to provide top-of-the-line, complete wedding photography services. Clients are never left wanting.
Based on the number of weddings and work they cater to every year, Ariel has been true to his words. They do an average of ten wedding photo shoots on particular dates, average of 900 weddings annually. Not bad for something that started so humbly. .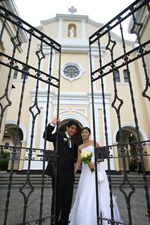 The Ariel Javelosa Trade Secret
Is there a secret to the Ariel Javelosa Photography and Videography success? In truth, it is not much of a guessing game. Both him and his team of wedding photographers have kept to the standards they have set for themselves when it comes to professionalism. All that's needed is hard work, a lot of creativity, a desire to succeed, a propensity to please the clientele and guts, guts, and more guts. And, oh, not to mention, to keep the feet where they belong – on the ground.
Ariel is the epitome of humility, as can be gathered from the reactions of people who have met him and those who have had the pleasure to work with the man one way or another. As one has said, when you visit his photo studio, it is sometimes he who will personally greet you, offer coffee and accommodate your queries, concerns and what-not's. Surely, if there's a trade secret at all to their success, it would be the humble Big Boss himself with the Midas Touch. And surely, this is this same example that he has imbibed to his people, directly or indirectly.
To quote past clients who took their vows:
"Thank you so much for the wonderful job you've done for our wedding. We saw how dedicated and committed you are in your work and it shows in your craft. You were so jolly and so light to work with."
Angelo & Cristina Santos
Married January 8, 2004
"...Thank you especially to Mel, Ben (sorry I forgot the names of the rest of the crew) very respectful, professional and hardworking people and Grace who was wonderful in helping me with my questions. We will surely recommend you to anyone looking for an excellent Photographer and Videographer."
The Gabayan Family
Renato/Gina
Blythe & Kyle
Married August 10, 2007
Indeed, a very satisfied customer is the best endorser of all. Many of those who booked Ariel Javelosa Photography have shown their loved ones and friends the magic Ariel's team can do, and this has resulted into a larger clientele for them, here in the Philippines and even abroad.
The Ariel Javelosa Service
What does Ariel Javelosa Photography and Videography offer? Let us count the ways.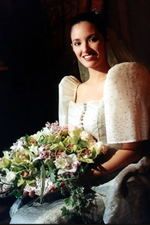 Mainly, the studio is designed to cater to various kinds of imaging, from the requisite wedding photography to glamour portraiture. These services and other stuff are listed down on their online site www.arieljavelosa.ph as clickable tabs that make the site easier to navigate – portraits, candid/photo journal, black and white images, details, out-of-town pictures and, of course, group, church, garden and location wedding pictures. Ariel Javelosa Photography and Videography also accepts engagement, birthday and baptismal projects. Their commitment: anytime, anywhere.
A thorough exploration will not only familiarize one with their services but allow him/her a lot of glimpse on the beautiful artistry that the company can offer. Their video blog page alone is a testament to their impressive body of work. Be inspired and reminisce down your own memory lane as you watch couples turn from simply lovers to starry-eyed newlyweds. See her blushing face, smile at his nervous stutters. Witness the beautiful weddings as captured by the lenses.
This page, too, can feature a debut or two, most recent of which is that of TV newcomer Isabelle Abiera done Hollywood-style.
In everything they do, they do their best, for the company and their customers. That is why clients always walk away happy and contented, if not elated.
"They are beautiful! You have captured the best poses and sceneries during the entire wedding. You and your crew have done an excellent job...My co-workers here are very impressed as they have not seen one like this here in Minnesota or in the U.S.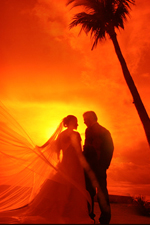 Someone here at work asked for your business card...Kana siya...She is wondering if you have a counterpart here. Maybe you and your brother can come here and open up a business..."
Antonia Y. Eleria
"You were so accommodating and very professional in every aspect...You're highly recommended, our Irish families, friends & colleagues were absolutely in the sky when they viewed our wedding. They even suggested that we better start our business here as Ariel Javelosa Photography-Ireland, ha ha ha..."
Mr. & Mrs. Paul & Vie Carr
From humble beginnings, the Ariel Javelosa Photography and Videography studio overcame Goliath and is now a major player in Philippine wedding photography. What sets them apart from others? Commitment and the great value they give to clients and their wishes.
When they commit, they mean it and, boy, do they come out in style. With Ariel Javelosa Photography and Videography, no vow need be broken.