Wedding Supplier
The Man And The Wisdom Behind Ariel Javelosa Photography
15 December 2011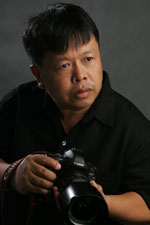 So simple, yet, so deep. This aptly describes Mr. Gabriel Javeloza, the man behind the popular Ariel Javelosa Photography. He will not try to impress you with his looks nor try to astound you with his skills or resources. You might even think he's just one of the staff, as he sometimes open doors or offer drinks to his customers. And yet that is exactly how he likes to be regarded.
"New clients would oftentimes ask for Mr. Ariel Javelosa to be their wedding photographer, and would even offer to pay higher just to get him. And yet, there is really no Ariel Javelosa. It is a brand name we built to avoid associating the quality of our product or service with just one person," Mr. Javeloza amusingly explained.
Wedding Photography Minus The Ego
In reality, Mang Ariel (as he is fondly called in the Philippine wedding industry) devotes most of his time in training and monitoring his various wedding photography teams, and is only present in very rare ocassions when a team got short of help. "One bride was so shocked to learn that I was the backup wedding photographer during her wedding and was apologetic for not giving me the 'special treatment'. I told her it is us who should be giving the special treatment to clients and not the other way around. Wedding photographers should not have egos in order to best serve their clients," he humbly shared.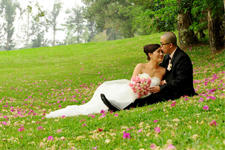 Why does ego have no room in wedding photography? As Mang Ariel shared, the couple are the stars of the wedding, not the wedding photographer, no matter how celebrated or known he/she is. If the wedding photographer takes this to heart, he/she will consider what the couple wants, he/she will give them courtesy (e.g. preparing ahead of time, by being punctual on all commitments), and he/she will do whatever is necessary to deliver without expecting anything in return.
This simple yet profound view also guides him in training his staff. Mang Ariel ensures each of his staff, from day one, will be guided by the '3 G' policy of Ariel Javelosa Photography - good service, good product, and good relations to customer.
While technical training is important, for Mang Ariel, he prefers to have staff with good attitude rather than skilled ones yet with bad personalities. "Skills I can teach, train. Character, I cannot." He simply believe that if staff don't have the discipline and the drive to be best in what they will be doing, then it will be very difficult to teach them the necessary skills as well.
Wedding Photography Equals Wedding Tradition
With the many trends and technologies being introduced in wedding photography, how does Ariel Javelosa Photography ensures they are in tune with the times?
Mang Ariel revealed they don't jump to fad or embellish their service with marketing hypes most often designed to just raise the service price without really improving the quality. "For example, some couples will request if we can do photojournalism or candid shots because these are supposed to be the "in" thing. We say we can, but you ask your lola or tita (who spent so much just to come home and attend your most special day) which photo she will keep as memento – a composed shot of her with you (showing her nicely made up face and dress) or one with her candidly talking or getting emotional? Also, which one would most likely land on your wedding album?"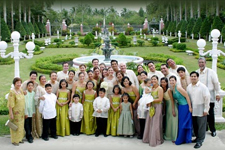 According to Mang Ariel, photojournalism in its very basic sense is illustrating a news or story as it happens. While a wedding is a news/story, given the amount of money and effort poured into planning one, its photos should not only illustrate a story but beautifully illustrate the people in the story. An organized shot of the bride with her family shows the bride's last moment as a single woman with her family, an arranged shot of the couple with both their relatives tell the union of two families. These kind of shots allow the people to look beautiful, to document wedding details they spent a fortune for. While candid shots can be funny, dramatic, they cannot be the entirety of the wedding album.
Mang Ariel explained they value traditional photography because a wedding itself is steeped in tradition. It is the most important occasion in a family and he cannot understand why some 'modern' wedding albums nowadays contain just the couple in various artsy, 'cinematic' shots (or relegating family and friends to just a few shots at the last pages). He wonders how a relative or friend will feel if he/she doesn't see himself/herself in any of the wedding album?
Wedding Photography Plus The Wisdom
With more than two decades of photography experience, many-to-mention awards, a multitude of wedding clients a year, and a 3-story fully-equipped photo studio as testaments to Ariel Javelosa Photography success, Mang Ariel does not even claim to be one of the best wedding photographers in the country. He is not shy, however, in sharing his humble beginnings and his insights, especially to young and aspiring photographers.
The moment Mang Ariel talks, people listen. And whatever he does in his business, others seem to want to emulate, follow. He has become the benchmark of many photo studios, the one that many young photographers look up to, and the one that will be remembered by many generations to come.