Wedding Supplier
Wedding Photography by B. A. Studio
By Danielle Sebastian
August 2011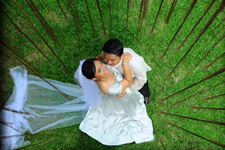 Nowadays, when almost everybody has a camera and an internet connection, everybody becomes their own photographer. Instead of sharing through words, we post pictures – where we are, what we do, even what we eat. Close up self portraits and blurred pictures are normal but just won't do in our once-in-a-lifetime wedding.
What do we want in our wedding photos? We want to look as best we can, and we want them to be "share"-worthy so our adoring fans (well, friends and family) would not stop talking about them.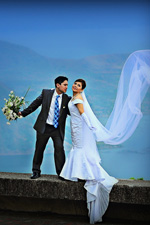 How do we make this possible? Simple, for your significant occasions like weddings, entrust it with professional wedding photographers like B. A. Studio.
B. A. Studio takes pride in its 2 decades of service.
B. A. Studio, in its twenty years in the business, has kept on in improving the quality of their wedding photo and video services through research and development, upgrading of equipment, and learning the latest trends in photography.
Their photo gallery is full of amazing pictures that are far from the ordinary wedding poses and backgrounds. Their pre-nuptial photographs truly capture beautiful images and love stories.
B. A. Studio wedding photographers work with their clients in envisioning a wedding portfolio that would be personal, artistic and unique. Translating their client's vision into a reality is the job B. A. Studio is most proud of.
B. A. Studio offers friendly well-trained staff.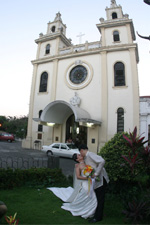 Past client testimonials attest to their admiration for B. A. Studio staff not only because of the great wedding photos and videos they were able to create, but also because they were really nice, helpful and easy to work with.
They are well able to provide proper direction and instruction in pre-nuptial shoots where the couple must pose and work with the props as well as the background.
Their staff are also equipped with a lot of experience in outdoor pre-nuptial shoots. They can guide clients in choosing appropriate pre-nuptial shoot venues as well as the prerequisites needed in the chosen venues.
B. A. Studio's creativity can also be credited to their staff's artistic flair, a gift they lend to couples so their wedding can be magical and timeless in their wedding photos and videos.
B. A. Studio stands out in providing affordable wedding photo packages.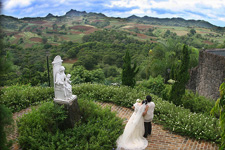 B. A. Studio has a studio annex located in Quezon City where pre-nuptial shots can be done. If the couple avails of their wedding photo package, the use of the studio as a pre-nuptial shoot venue can be used for one whole day free of charge.
Any couple can get excited about their studio! It is an 8-storey European-designed building with a full scale studio, 18th century Greek wall antique design, an intricate winding stairway, Rialto Bridges, Muebles Italiano Falls, exquisite French-style canopy and man-made cave. With all that, a couple may opt to have both an indoor and outdoor photo shoot in one venue.
With B. A. Studio, you can have the creativity, friendliness, and affordability in one wedding photographer.