Wedding Supplier
The Wedding Photo-Video Of CD Worx Multimedia
By Danielle Sebastian
October 2011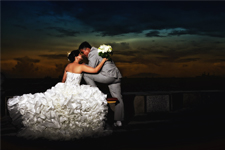 With the wide array of photo and video suppliers in the Philippine wedding scene, how can you make the best choice for your once in a lifetime wedding? CD Worx Multimedia Center puts their foot forward and tells it to us straight.
Since 2002, CD Worx Multimedia Center has been providing photo and video coverage for various events. With nine years of experience in their pockets, the husband and wife tandem continues to set forth their business in order to achieve their number one aim – client satisfaction.
Client Satisfaction is Number 1
In order to make a mark and be remembered in the wedding photo-video industry, suppliers should be able to provide not only what the client expects, but what all clients deserve on their very special wedding day.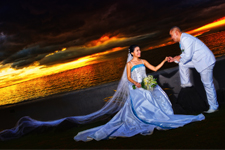 One of the things that sets CD Worx Multimedia Center apart from the rest is the budget rates of its wedding packages. Their wedding photo package starts for as low as P28,000-P35,000. But don't get them wrong, these budget rates don't mean "budget quality". For the price, CD Worx delivers above standard output and services. Senator Miriam Defensor-Santiago can maybe attest for CD Worx Multimedia Center service quality as she chose their photography services for her 40th wedding anniversary celebration.
Aside from its affordability, CD Worx also sets a standard for skill and professionalism. The well-trained staff of CD Worx Multimedia Center does not only promise to capture the best of your event, they make it a point to capture EVERY moment of your wedding day. Past client testimonials have professed their admiration for CD Worx wedding photographers for coming in early and working hard all throughout the day.
Personal Touch
Unique to the husband and wife tandem is their personal treatment to weddings. The wedding is not just a business opportunity, but a personal and sentimental affair for the couple. This is why they prioritize capturing wedding vows, interviewing guests, and covering the whole event as it unfolds.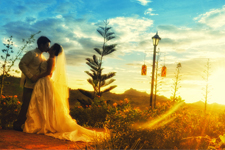 Wedding vows are often what a couple would like to be able to record and playback even in their old age. It brings back memories of the greatness of young love and how far they have come in their marriage. With this in mind, CD Worx Multimedia Center includes a clear audible copy of the wedding vows in the wedding video through a concealed wireless microphone. Even absent loved ones and future grandchildren will be able to rewind the heartfelt delivery of vows.
Also unique to CD Worx is that they take the time to interview abut 30 to 90 guests during the reception. The couple would be able to watch and listen to the special messages of their family and friends after their wedding day.
Straight Up
Most wedding photographers would be using flowery words and their most beautiful photos to reel you in. What again sets CD Worx apart is its straightforward approach in marketing their wedding photo and video services.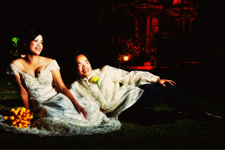 Straight up you would know about the cameras and editing programs they are using, their specialties and the package prices and inclusions. They clearly state what they can provide and what the contract includes. They also provide their clients a copy of ALL the photos of their wedding day, not just the touched-up ones.
You can catch CD Worx Multimedia Center in bridal fairs around the Metro. Also watch out for another branch either in Makati or Quezon City. CD Worx is preparing to expand and become the best in providing wedding photo and video services.