Wedding Supplier
Capturing Real Wedding Moments
by Jonathan Dionisio
January - February 2011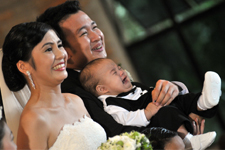 Wedding photos and videos enable the newlywed couple, their family, and guests to turn back the hands of time and reminisce the special moments of that wonderful day. However, most wedding albums show traditional portrait poses that tell only a fraction of the wedding´s story.
The other side of a wedding story, however, lies in most photos that do not make it to the wedding photo album. There is a snapshot of the bride's father failing to hold back his tears, the groom nervously arranging his hair, or guests laughing their hearts out as they recount moments in the couple´s lives. These are spontaneous, unscripted, and in a sense, reflective of the true story behind each wedding. This is what wedding photojournalism is about.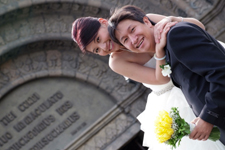 For veteran wedding photojournalist Ramoncito ´Chito´ Vecina of Chito Vecina Photography, this is the best way to tell a beautiful wedding story. In photojournalism, pictures re-tell what exactly happened in an event - the good and the bad, the important and seemingly mundane. Here, everyone has a moment to share, from the newlyweds to the parents to the guests.
The Wedding Photojournalist
Wedding photojournalism produces wedding photos that are more relaxed and natural, far different from the traditional or posed photos. It creatively captures true emotions, notable actions, and sincere reactions throughout the event.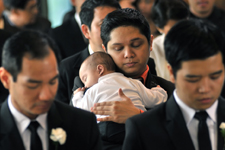 Chito stressed that wedding photojournalism is different from dramatic or wacky photographs. For one, these shots are scripted and orchestrated; wedding photojournalism shots are not. The principle used in wedding photojournalism is the same as regular photojournalism. Photos are taken as is, when they happen, where they happen. And as he puts it, these images can be powerful enough to be front-cover material for any newspaper or magazine.
Chito Vecina's expertise in wedding photojournalism is a result of his 30 years of experience as a news and sports journalist. Being a contributor for local newspapers like Philippine Daily Inquirer and The Philippine Star, and foreign publications/ international news agencies like Reuters, Agence France Presse (AFP), TIME, New York Times, Asiaweek, and Newsweek, he became highly skilled in capturing unique wedding scenes in a split-second. When covering weddings, he has a wedding photographer to take care of the more traditional shots. Chito, on the other hand, serves as the wedding photographer standing on the sidelines, ready to take the shot when the right moment comes. But as a wedding professional, he does not simply click away. Like the professional journalist that he is, Chito carefully discerns what is ethical or appropriate to capture.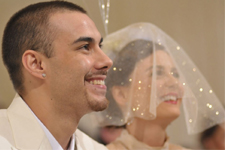 Reliving the Wedding Excitement
Chito advises couples not to be afraid to include non-traditional and wedding photojournalistic shots in their wedding album.
Long after the confetti has fallen to the ground and the last champagne bottle has been popped, the wedding excitement can be far from over. Couples can relive their wedding moments again and again - feel the same emotion, passion - through their wedding photos captured in a photojournalistic style by no less than Chito Vecina and his team.