Wedding Supplier
Affordable Wedding Photos of Daystar Records Studio
By Jonathan Dionisio
April 2011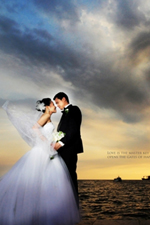 When it comes to choosing a wedding supplier, couples would naturally want someone that gives quality service at an affordable price. This is true especially when it comes to choosing wedding photographers. Admittedly, wedding photography takes a significant percentage of a wedding budget. That is why couples always want to invest in the best man or woman for the job. They prefer a wedding photographer who offers a wedding photography package that reflects their personality at a price that will not cost them an arm and a leg. For the past years, this is what Bobby Espedilla, General Manager of Daystar Records Studio, has been offering.
Affordable + Quality Wedding Photos
Bobby Espedilla has been in the Philippine wedding photo and video industry for six years. Despite the relatively few years of practice compared to veteran wedding photographers, his experience in handling wedding is unquestionable. He has done countless weddings and has become one of the most sought after Filipino wedding photographers today. This is primarily because his wedding packages are one of the most affordable in the Philippine wedding industry.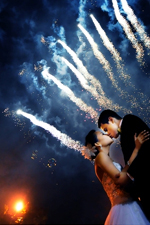 One may think that if a wedding photographer can give a very affordable wedding package, there must be a catch to it. Some may think that by paying less, they will surely get less. Not for Daystar Records Studio. This Filipino wedding photographer takes pride in investing in the latest technology in wedding photography and videography; same as what his contemporaries have. He always makes sure that he has the best tool for the job so that he can capture every single moment of his client's wedding. "High quality product is a result of good skills and technical capacity of the equipment. It is both "the Indian and his arrow," said Bobby.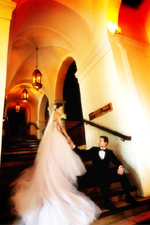 Affordable + Quality + Innovative Wedding Photos
True enough, this 'Indian' knows how to handle his 'arrows' very well. Creativity is never compromised. Browsing his extensive gallery, one can see that each wedding client received the best of Bobby and his team. Wedding photos and album layouts are as unique as the couple themselves. To make each wedding photo more appealing and striking, he uses Creative Lighting System (CLS) when composing his portrait shots. CLS enhances and adds details to the subject, giving it depth and a different feel.
As more soon-to-wed couples avail of his services, he continues to find more ways to make their wedding experience memorable. "I will never stop in skill education and equipment upgrade to ensure client's satisfaction. My commitment to quality improvement will never end," he said. Bobby Espedilla and the rest of Daystar Records Studio is a testament of how quality and affordability can work well. As he continues to serve more soon-to-wed couples, they can be assured that his quality of works improves and increases with the level of trust they give him.