Wedding Supplier
A Passion for Wedding Fashion
By Jennifer Federizo
January - February 2011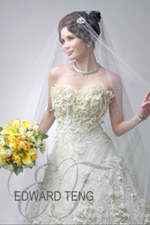 How do you separate good taste from sense of style? You don't.
When it comes to fashion, these two always go together, like a pair of shoes, or a pair of scissors. Neither is expendable. And who knows it better than The Edward Teng of the Philippine wedding industry?
Designing for Royalty
But before creating beautiful wedding gowns for Filipina brides, Edward Teng started designing for the Royal Family of Saudi Arabia. Quite a challenge, but for Edward Teng, that is where the fun of designing lies.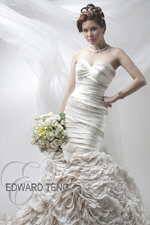 His were humble beginnings. After college in 1986, Edward studied Fashion Design and Dressmaking at the Slims Fashion and Arts School. Experience is the best teacher, however, and so, he first worked as an assistant designer to his mother in her own shop. From there, he learned the ropes and no one was a more diligent student.
His innate talent coupled with an immense desire to succeed in the fashion field 'caught the eye' of someone, so to speak, and gave him an offer he could not simply refuse – he was to design clothes for the Royal Family of Saudi Arabia. Edward did not back down, of course, and saw it as an opportunity to learn and practice his art.
It was not at all a walk in the park. Any fashion designer knows the importance of measuring clients and seeing how his works look on them before they actually come out in public. This was not the case for Edward. Measurements of the Royal Family were taken by someone else for him and he could not gauge how exactly his clothes fitted or looked on his employers. Not his idea but custom dictates only a few people could go near any royalty. In other words, Edward went on blindly, going by sheer guess and guts, and hoped it would work. And work, it did! The Royal Family had only praises for his pieces.
This encouraged the young couturier and he stayed on for years – from 1987 to 1989 – designing for them, nurturing his craft. Soon, he learned to do Arabian embroidery and beadwork. He saw it as a great privilege and honor designing for Saudi Arabia's royalty.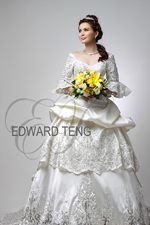 Birth of a Wedding Couturier
Home is really where the heart is, however. Edward was to return to the Philippines, back to where he started, to his mother's shop. This time, he had another, bigger idea in mind. This was the birth of the Edward Teng Couture.
As a new company, there was only a meager capital to utilize. But Edward was not one to veer away from a challenge when it came to the thing he loved do dearly. So he started his designing business with only a few staff, 20 in all, and a handful of sewing machines.
It did not take too long before Edward Teng Couture started making waves in the fashion industry, and more specifically, in the Philippine wedding industry. Edward clothed celebrities, from wedding gowns to formal outfits. His patrons were Aga Muhlach, Dina Bonnevie, Sarah Geronimo, Kim Chui, Bea Alonzo, Kristine Hermosa, Jodi Sta. Maria-Lacson, Roxanne Guinoo, Marissa Sanchez, Ana Capri, Lani Mercado, Jennylyn Mercado, and Hero Angeles, to name only a few. Edward Teng Couture designs were soon seen on-screen and in glossy print, commanding more interest in Edward's masterpieces. More celebrities and even non-celebrities commissioned his work.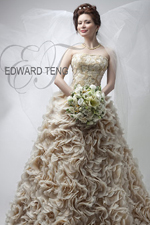 At present, the Edward Teng Couture shop at Columbian International, Santol, Sta. Mesa has 80 employees, a far cry from when they started, and four times the original number. This, moreover, translates to more machines, more productivity, more income, and more satisfied customers.
Because of his work experience abroad, Edward Teng is successful also in servicing to-be wed overseas Filipino workers who may not be able to go home to do measurements or fittings. Even foreigners wanting to hold destination weddings here in the Philippines love his craftsmanship. Like in the case of the Royal Family, he knows how to service offshore clients. It's like having an invisible "third eye" and the results leave us breathless.
That is why it is no wonder that Edward Teng is one of the most sought-after, well-respected bridal gown designers in the country and, it's safe to say, abroad.
Saying 'I do' in Style
As one client, "Laarny", exclaimed, "When I first fitted my gown, I was really happy. No more sleepless nights! Edward Teng really did justice to the gown design I wanted. Upon wearing my gown, I felt like a princess waiting to marry her prince charming."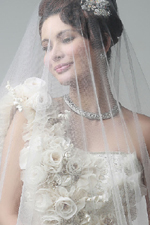 While Edward Teng designs for other occasions, weddings bring out the best in his originality and imagination. A wedding, after all, is one of the most important, solemn and sacred events in a woman's life and Edward is there to make it more special. He has designed bridal gowns in satin, silk, tafetta, or lace with exquisite results that, perhaps, a bride would like to repeat her wedding just to have one more of that Edward Teng Couture experience.
More samples of his breathtaking creations – bridal, formal, for debutant, for men – can be seen in his website (www.edwardgteng.com) and in his photo gallery in www.kasal.com. A section in the site even serves as an informative resource and provides visual approaches to taking measurements.
Edward also keeps a blog for him to interact with his avid followers (http://edwardtengbridals.blogspot.com). He keeps his blog the way he describes himself, though: simple. It is where he posts video clips of weddings that feature his creations – it's like watching Edward Teng in 'action.' And he doesn't disappoint either, from bride to groom to the whole wedding entourage. As former client "Angela" shared, "I should say they really did a great job in doing the suits for our groomsmen. The men really looked great in their attire and they were all happy."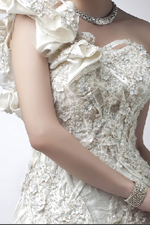 Edward did not stop there. He has expanded his business into a one-stop wedding shop for couples through collaboration with friends in the wedding industry. Not only does his wedding shop offer a variety of gowns and suits to choose from. It can also help couples with their other wedding needs – must-have's like wedding accessories, wedding invitations, wedding flowers, wedding cakes, sound system; services from wedding photographers and, wedding videographers, bridal makeup artists, wedding hosts and entertainers, and that all-important wedding planner.
Edward Teng Levels Up
Edward has computerized the operations of his atelier. The better to serve his clients. But leveling up is not confined in the physical aspects of his company alone. Edward, despite his expertise in the wedding fashion industry, still tries to keep abreast with the times to learn fashion and wedding trends. He is not one to sit on his laurels and so he studies and sharpens his craft doing research and keeping himself well-informed.
So how do you separate good taste from sense of style? You don't. But at least, we have coutures like Edward Teng to help us find that perfect wedding gown and you'll never have to worry. With Edward Teng Couture, you are assured of high quality, superb artistry and a wonderful wedding that will surely make you smile in the years to come.