Wedding Supplier
Edward Teng Couture: Designed for Royalty
by Jonathan Dionisio
March - April 2009
To design clothes for celebrities is a huge challenge for any designer or couturier. One has to have extensive experience and knowledge about fashion, especially trends. Moreover, a designer has to know what type of clothing will complement the celebrity's body and personality. And last, a couturier has to understand that other people who idolize this celebrity will copy or will want to wear that outfit, especially if it is a wedding gown.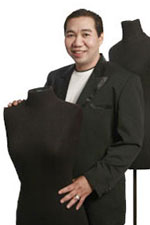 Bridal couturier Edward Teng is no stranger to this, having designed clothes for the Royal Family of Saudi Arabia and now, local celebrities.
In 1986, after four years of college, one year of study of Fashion Design and Dressmaking at the Slims Fashion and Arts School and years of work as an assistant designer to his mother, someone saw his work and gave him the chance to travel to Saudi Arabia and design for the Royal Family. He did not hesitate hoping that he would learn more about his chosen career.
But all was not fun for Mr. Teng. His creativity and skills were tested to the limit when he started designing for the Royal Family. Unlike his clients in the Philippines, he cannot make the measurement of the clothing directly on the family; someone else has to do it for him. He cannot see how his work looks like once fitted as custom dictates that only a handful of people can go near the Royal Family. Thus, he worked like a blind man painting on a canvas. Although 'blind', his works received praises from the Royal Family. His years of work in the foreign land nurtured his talent and also taught him the unique technique of Arabian embroidery and beadwork.
When he came back to the Philippines after years of service to the Royal Family, he went back to the shop of his first mentor – his mother. He expanded the shop and created his own line of clothing – Edward Teng Couture.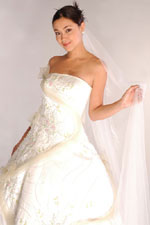 Since then, working with celebrities has become all in a day's work for Mr. Teng. He has created wedding gowns and other formal outfits for local celebrities like Jodi Sta. Maria – Lacson, Sarah Geronimo, Kim Chui, Bea Alonzo, Kristine Hermosa, Roxanne Guinoo, Marissa Sanchez, Dina Bonnevie, Ana Capri, Lani Mercado, Jennelyn Mercado, and more. He has also tailored formal wears for Hero Angeles and Aga Mulach.
The gowns used for television shows do not go back to their respective boxes to be forgotten. Most of them were sold immediately. Mr. Teng shares that a gown worn by Dina Bonnevie in one of ABS-CBN's recently concluded afternoon drama show, "Sineserye Presents: Natutulog Ba Ang Diyos", was bought two days after the episode was aired.
Mr, Teng also used the experience he gained in Saudi Arabia to serve OFWs and foreign clientele. With the use of internet technology combined with good customer service, Mr. Teng is able to analyze his clients' body structure, assist them in proper measurement, and present designs that complement their body and personality.
Experience, creativity, and passion for design are the main components of his works. With this, Edward Teng gets to shares to his clientele how it feels like to be a celebrity, even a royalty.