Wedding Supplier
Beauty And More In A Wedding And Honeymoon Destination
By Jonathan Dionisio
June - July 2011
When a soon-to-wed couple decides to have a destination wedding, the place of choice usually becomes their wedding ceremony, reception, and honeymoon venue. As such, couples check everything in it with their wedding in mind. For the ceremony and reception, it could be a spacious function room, scenic beach, picturesque garden or any combination. Couples also check the other amenities, tourist spots, and other come-ons that may help them decide to stay for the honeymoon as well.
With so many places to choose from, picking a Philippine wedding destination in Luzon, Visayas, or Mindanao could be quite a handful. The good news is, Fuego Hotel could be the perfect wedding and honeymoon venue, each venue with its own unique beauty and world-class facilities.
Pick a Philippine Wedding Destination
Since 2004, Fuego Hotels and Properties Management Corporation has offered deluxe service in first class accommodations all over the Philippines. Their resorts are spread out in breathtaking destinations all over the country, making them ideal for such an important day.
Club Punta Fuego
Club Punta Fuego, located in Nasugbu, Batangas, faces the vast South China Sea that makes it a perfect beach or seaside wedding destination for couples based in Luzon. Its location is just three hours from Manila and accessible to all guests. The entire venue is divided into different destinations, with its own facilities and one-of-a-kind beauty.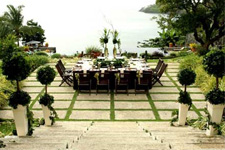 The Main Club at Peninsula de Punta Fuego (Point of Fire) boasts of an executive golf course, 33 spacious casitas, three restaurants, function rooms, a mini-theater, the Ylang Ylang Spa, and various types of recreational amenities including the signature double infinity pool. A few minutes drive away from the peninsula is the Terrazzas de Punta Fuego with 28 Balinese-inspired cabanas, an 800-meter stretch of white-sand beach, a multi-level pool and a restaurant offering classic Filipino fares. Overall, the entire Punta Fuego has five spacious function rooms that can accommodate intimate weddings with 30 guests to grand weddings with over 150 guests. This flame-shaped land mass is blessed with twelve (12) beach coves, two of which are very famous wedding venues. The Upper Beach serves as the perfect wedding indoor venue for nuptials with a high number of guests. The Lower Beach, on the other hand, serves as the access point to Long Beach, the Peninsula's main open-water swimming area. Its location makes it perfect for beach weddings.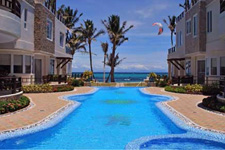 7 Stones Boracay Suites
In the Visayas region, specifically in the beautiful island of Boracay, a famous Philippine wedding destination, lays 7Stones Boracay Suites. Situated at Bulabog Beach, this new and modern boutique hotel features 31 stunning suites with luxury fittings; tropical gardens, a lagoon-type swimming pool with Jacuzzi; white sand beachfront and breathtaking sights. Couples and their guests can bask in the warm sun and grab a refreshing beverage at the swim-up pool bar, breathing fresh air while dining al fresco at the restaurant that serves both local and international cuisine. 7Stones Boracay Suites offers activities for thrill-seeking newlywed couples and adventure-lovers.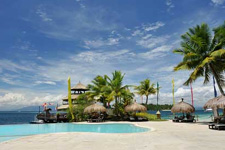 Pearl Farm Beach Resort
The world renowned Pearl Farm Beach Resort is a jewel in the southern island of Samal in Davao de Norte, Mindanao. It is an ideal destination for the most serene and romantic wedding and honeymoon. Couples can experience a tranquil escape in its 70 guestrooms, suites, cottages on stilts, and villas perched above the water and inspired by Maranao and Samal ethnic influences. They can savor the good life with fresh seafood specialties and international cuisine at the Maranao Restaurant or have a cocktail or two at the Parola Bar. Newlywed couples can enjoy relaxation and rejuvenation in its truest sense at the Ylang Ylang Spa.
Wherever a couple decides to hold their wedding, the most important thing is that they make it the most memorable day of their lives. Choosing a scenic Philippine wedding destination will not only make it romantic and memorable, it will serve as a preview of the wonderful journey ahead – a beautiful married life.