Wedding Supplier
Preserving Emotions Through Wedding Photography
by Jonathan Dionisio
October-November 2010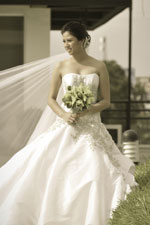 During weddings, a lot of emotions unfurl. Aside from the parents and guests, the most emotional perhaps would be the bride and groom. On this day, they celebrate and express their vow of eternal love for each other. Such an important occasion would surely make them want to look back and cherish every moment over and over. This is one of the many reasons why soon-to-wed couples hire Filipino wedding photographer and videographers to document this momentous event in their lives.
Capturing emotions through photos is not easy. After all, photos do not have audio support to set the mood or recreate the blissful atmosphere as it happened. And yet, photography allows people, particularly, the bride and groom, to rekindle the feeling on their own by simply staring at these photos.
Mr. Gerard Dacles of GTech Multimedia, a Bacolod City wedding photographer, is one of the few Filipino wedding photographer who understands emotions and knows how to preserve them through photographs.
The 'Emotional' Lensman
Mr. Dacles, known to his peers and clientele as G Boy, started G-Tech Multimedia back in 2004. Before venturing into Philippine wedding photography professionally, he was already a photo enthusiast, capturing moments through film since 1997. Involved in the visual arts and when his friends noticed that he has an eye for photography, he started enhancing his skills by attending seminars and workshops here and abroad. Since then, he has developed his skill in photography and went on to offer his service to the wedding market.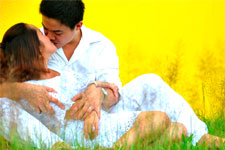 Heart to Heart
Since weddings are emotional events, G Boy's approach to photography is fueled by the overwhelming emotions. G boy shares, "When people see emotions in my photos, they get connected to the moment. My goal as a wedding photographer is to capture that emotion and share it in the media of photography. I want my viewers to feel what I felt when I took that shot."
He is very keen on details and likes to capture reactions and expressions. Through the use of different photography techniques, especially the use of color, G Boy is able to preserve the heartfelt emotions of the couple on their wedding day. For him, black and white is the purest because it isolates the subject. This allows the viewer focus on the image and the emotions rather than be subjected to or influenced by any color.
When covering weddings, his photographs are 90% candid and 10% choreographed. "I always keep my five senses active. I'm in a constant lookout for the ordinary and the extraordinary to the bizarre. I have set a 1-photo-per-minute rule for myself: I should take at least one outstanding photo every minute. Even the simplest subject can be outstanding, given the right foresight," he adds.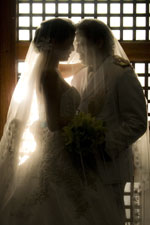 As they say, when you know the rules, you know which ones to break. This Bacolod City wedding photographer applies this in his work. "I love tight shots for capturing emotions. I disregard rules like headspace or crop limits. I love intense cropping and framing. Sometimes I frame just the eyes of my subjects, which I believe speaks a lot."
Unattached
Most of the time, Filipino wedding photographers try not to get too much involved with their clients as much as possible. They try their best not to get affected by the moment. When asked if he gets affected when he shoots, G Boy replied, "Every time". He laughs, smiles, gets anxious, cries, or gets nervous when he covers a wedding. "What my subject feels, I feel. That's the beauty of my work". Utilizing the emotions of the couple and their guests, Gerard Dacles is able to discern the outstanding moments of their wedding and encapsulate them through his photos. By doing so, couples are able to not just remember the moment, but to lovingly reminisce on that very special day as they glance together at the stunning wedding photos. Pictures, indeed, paint the thousand words that need ton be uttered between two souls forever united in love.
Visit Kasal.com's Wedding Resources (Photo and Video: Photography Category) for the complete contact details of Gerard Dacles Photoraphy.