Wedding Supplier
Affordable Deluxe Wedding Cakes
by Ronalyn Umali
May 2011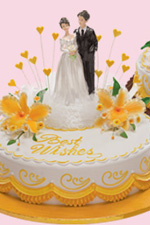 Every Filipina bride dreams of a perfect wedding. A gorgeous gown, complete wedding entourage, breathtaking reception, and of course, a three-layered chiffon cake won't miss the ceremony. Aside from its decorative and celebratory purposes, a wedding cake plays an important part in any Philippine wedding ceremony. As the newly weds cut the cake together, it symbolizes not only the union of the couple but also the start of their new life together.
Unlike before when the bride and groom would prefer a traditional three-layered white cake for their wedding, more and more couples nowadays are switching to a non-traditional and personalized wedding cakes. That is why Goldilocks Bakeshop, a leading Philippine wedding cake shop in the country, now offers what soon-to-wed couples are looking for—a deluxe wedding cake specially made for their wedding day.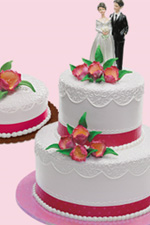 Goldilocks introduces Luxe, a place for the most luscious fondant cakes. With the aim to provide deluxe fondant cakes and pastries for special occasions like birthdays, anniversaries, and weddings, Luxe is able to give sophistication and elegance in a tase Filipinos always loved, without the burden of paying for a high end bakeshop.
Soon-to-wed couples with specific requests and vision for their wedding cake can talk to the cake artist and have it personalized and unique from the rest. Meanwhile, couples with sweet tooths can experience heaven on earth as they indulge in variety of cookies, sugared nuts, and specialty cakes paired with a hot brewed coffee.
With one branch along Shaw Boulevard in Mandaluyong City, this shop exudes a posh and classy look perfect for couples wanting to experience luxury and have affordability at the same time. The dessert bar and gift corner of selected Luxe products allow couples and gift buyers to have a look around little fondant cakes and have a choice of their own. And to those who can't think of anything to give people "who have everything," Luxe by Goldilocks is the place to be.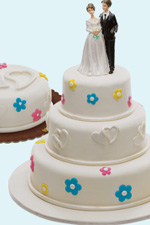 How It All Began
The collaboration of two sisters, Milagros and Clarita, together with their sister-in-law Doris, paved the way for the opening of a small bakeshop along Pasong Tamo Street in Makati on May 15, 1966. Aside from its notion of luck and prosperity, the name 'Goldilocks' was derived from a fairytale character to make it easier for children and their mothers to remember the shop.
Since then, Goldilocks started making history with its new products and services through the years. From its original offerings of baked cakes and pastries, this bakeshop has extended its services to catering, with full meals and merienda choices offered in selected Goldilocks stores. Goldilocks first opened its foreign outlet in Los Angeles, California in 1976. Currently, there are now 20 Goldilocks outlets in North America, 19 in the West Coast, and two in Vancouver, Canada.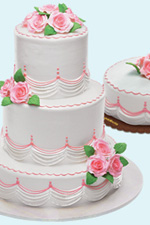 Goldilocks Now Bla
Almost 12 years ago, Goldilocks responded to the call of soon-to-wed couples by launching their premium line fondant cakes, making it possible for them to offer more thematic and customized wedding cakes. And with the launch of its new wedding packages, Goldilocks made it easy for every couple by choosing from six varying wedding cakes specially made for different wedding themes.
For as low as P3,000 per package, couples can choose from a one-layered to a three-layered fondant cake, with a choice of miniature cakes, polvoron cakes, and mini cakes for souvenirs and giveaways. Now, couples on a tighter budget can cut their wedding expenses by buying giveaways together with the wedding cake. Indeed, Goldilocks made "luxury" affordable and available to every Filipino couple.
Throughout the years, Goldilocks Bakeshop was able to be a part in the lives of every Filipino. May it be on a birthday, graduation, anniversary, or even in a simple family gathering, an occasion won't be complete without the cake we grew up with. And in a very special moment when a woman becomes a wife, Goldilocks always makes it sure to be there and give every Filipina bride the perfect wedding she always dreamed of.