Wedding Supplier
Unique Eye In Wedding Styling
by Jonathan Dionisio
May 2011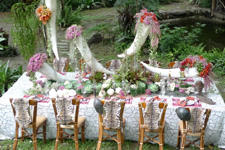 For any event, especially a wedding, visual aesthetics - being silent in nature - receive significant focus. As each event conveys a unique message and feeling, its visual representation must be present in all corners of the venue. It involves a lot of planning, conceptualizing, and research to make all the artistic elements visualized by the clientele come to life. This is the main goal of a Filipino wedding flower and event stylist.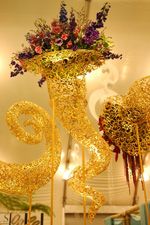 It's all in a day's work for premier Filipino flower and event stylist Henry Pascual. With a degree in Fine Arts major in Advertising, a background as visual artist consultant for clothing company Cinderella, and years of experience in event styling for corporate events and wedding, he has developed a more discriminating eye for beauty which he shares with clients and guests.
Henry is known in the Philippine wedding industry as someone who goes against the flow. For instance, he believes that event styling does not follow any trend. According to Henry, the concept and design depend on the preference of the clientele, thus, they are not bound by what is 'in' for the season. If the client wants a winter design for his event in summertime, a winter design it is. It's their prerogative.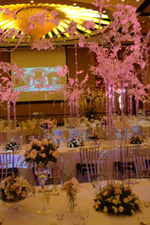 Philippine wedding event styling is commonly associated with flower arrangement. The use of flower as decorations, especially for weddings, is usual. But Henry sees flowers differently, regarding them like furniture which should perfectly blend with the rest of the materials for the design. For example, it is inappropriate to use imported flowers like daisies and tulips for a Filipiniana themed wedding. This is because each flower is associated with a certain event, country, or season. His knowledge and experience on this contributes to the total aesthetics of his design. He also considers color in choosing which flower is appropriate and ideal for the event and venue.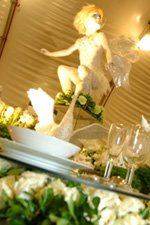 Aside from flower arrangement, event styling also involves artistic use of furniture such as tables and chairs, together with decorative items, to cohesively present the theme of the event. In his years of experience, Henry has accumulated several props and decorative items which he keeps in three warehouses. These include pieces of cloth for swaging, crystal and glass vases of different shapes and sizes, over-sized trumpet-like centerpieces, life-size mermaids, and candelabras made from authentic swords.
To preserve authenticity and uniqueness in each of his works, he rarely repeats the use of acquired materials. He shares that the sword candelabras were exclusively made for the birthday celebration of Eugenio "Gabby" Lopez III, current Chairman and Chief Executive Officer of ABS-CBN, and will never be used again.
A factor that affects event styling is the availability of materials. Logistics plays a key role in putting up the design he and his client are able to come up with. Oftentimes, he needs to travel abroad and too far-flung places to outsource materials he needs for his design. He reveals that when he created the mermaid display for an event, he had to travel to Paete, Laguna to commission a sculpture of a mermaid. He then used it as mold for a lighter material for easier transportation, strengthened its interior, and finally painted it.
With his innate skills and eye for beauty, Henry treats each of his events as a canvas ready for whatever idea his client has. He is their genie who makes a couple's imagination turn into reality.