Wedding Supplier
Glorifying God Through Wedding Photography
By Jennifer Federizo
May 2011
Most often than not, when you look for wedding suppliers, you are bombarded with sample works, presented a list of awards they have achieved, or offered alternative packages that promise to provide you the best value for your money. The better to entice you, my dear. But seldom have suppliers given much thought, much less spoken, about glorifying God through their work. "Seldom" is even an understatement.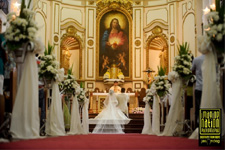 It is then refreshing to know that such a group exists, believing that in giving their best in what they do, they are giving their best for the Lord. It has become their mission, rather than simply a source of income. It is their way of life.
Imagine Nation Photography is "A team of young and creative photographers in pursuit of excellence and perfection in their field because of their huge love for Jesus...Our mission is to let the world know through our works, experiences, words and action that there is a God. We are in photography not only because it is our passion but more importantly, this is what God has gifted and called us to do". This makes every pictorial much more meaningful for couples who will soon face the altar to give their sacred vows in front of all their guests and, most especially, in front of the Lord.
Glorifying God is not a ploy to get clients. The Imagine Nation Team is serious when it comes to work, inspired by his or her purpose.
In The Beginning
Veteran photographer John Mateos Ong started the company back in 2003 as a solo photographer. He first only covered fashion and events until an opportunity to do a prenuptial shoot for a Singaporean couple presented itself, the same couple who would hire him as a backup photographer for their wedding. Everything then went from there.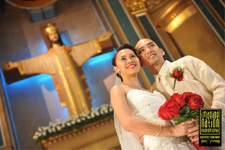 Inquiries regarding coverages kept pouring in, most of them wedding-related. John took his cue from there – he found his "calling" and decided to become a full-pledged, no-regrets wedding photographer. He left what seemed to be the more glamorous side of photography and settled on the less glittery side. This was where he was led and this was where he was going to stay.
It seemed that he was soon to be a teacher as well as he took more people under his wing, teaching them the ropes and training them. John finally had a team that shared his passion for the visual art and the Lord.
Each One Is Unique
With a number of photographers working for Imagine Nation, it is not hard for soon-to-wed's like you to choose the one who may be able to provide the kind of photography you require. All of them are considered professionals, each with his own style in capturing precious moments through their lenses, each with his own unique taste that may be much like your own. It is up to you to find your "kindred spirit."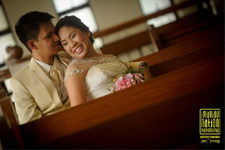 Do you want your shoot dramatic? Do you want it glamorous? How about fun and bubbly? Or romantic? However you want your pictures taken, Imagine Nation will surely have the photographer most fit for your needs. With a well-trained and talented lensman, your photos will show the best of you and your love and the precious moments from your most special day. All that is needed is good communication and cooperation.
"At Imagine Nation Photography, the uniqueness of a photographer is well celebrated... Imagine Nation Photography is composed of photographers who have their own unique style in wedding photography but share the same level of passion in immortalizing their clientele's memorable moments".
As aforementioned, there are a number of photographers to choose from. Currently, the company has four master photographers (including John), four senior photographers, and six junior photographers. You will not have a hard time finding the one who will suit your purpose, based on your requirements and on the package you have chosen. The most important thing is that you find the photographer you will be most comfortable with for it is the camaraderie between you – the soon-to-wed's – and your chosen photographer that will determine the success of the shoot. No amount of technique or style will work if the couple does not trust their photographer. It is a two-way relationship.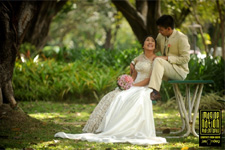 John is quick to say, though, that among their roster of photographers, "Kahit sino, magaling" [Anyone of them is good]. Competency is not measured by seniority but rather by how each individual artist – for they are considered artists – follows company standards and how his works effectively captures the essence of a couple's love, the candid little gestures, the outpouring of emotions.
While they do use reliable equipment, Imagine Nation does not depend on the "magic" of photo editing and post-production. Sometimes, raw, unedited emotions add a fresh feel to every photo, making it more timeless and significant. Meanwhile, the practical side of this is that couples can still have their quality photos despite a tight budget. There is always something for everyone.
In His Name
John and his team are not strangers to praises and overwhelming gratitude sent their way. But everything, they attribute to God. Their team is simply instrumental in sending God's blessings to couples who decide to be united by Him. A picture is beautiful not just because of the artist. A picture is beautiful because He makes it so.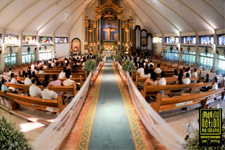 As John emphasized in his Kasal.com interview, "We're not just your regular photographers. We're photographers with a mission." And that mission is to help put Jesus Christ in the center of every couple's marriage. In a way, it is their kind of advocacy, as well as a way to give back to the Lord His gift.
"Two things that make up a vicious combination. The first is Passion. The second is Purpose. We are passionate about photography but passion alone burns itself out. We are thankful and privileged that God did not only instill in our hearts the passion to shoot, but also allowed us to see the big picture of what we are doing".
Do you choose a show-and-tell or do you choose one whose values you can count on? In the end, what makes the product precious is not the style. It is in how much love and care was poured into it. Imagine Nation Photography, so far, has plenty of love and care to go around.