Wedding Supplier
Antipolo's Pre "I Do" Photography Venue
By Jardin de Miramar
October 2011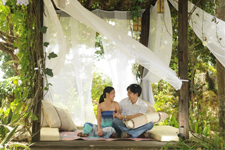 Let memories be encapsulated forever.
Let the romantic gardens and the photographic scenery tell your story, and sing your song.
Let it be a talk of a lifetime, your children and children's children asking how you both found paradise.
Half an hour drive from Ortigas takes you into another world of sheer photographic scenery within the cool, country offering that is Antipolo City - a sanctum of bliss and an almost surreal Eden.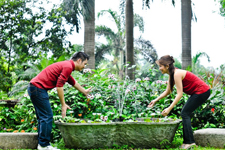 Jardin De Miramar, featured by over 50 television and media broadcasts, including the international Reuters and Associated Press, is the premier choice for pre-nuptial shoots for the following reasons:
Paradiso, Pergola and Terraza. These serene garden surroundings are perfect for couples who would like to feel more connected to the marvel of nature. It's timbered gazebo and waterfall are gentle reminders of Mother Earth and will prod a gentle whisper to each other of their commitment to share the same eternal love with each other as years go by.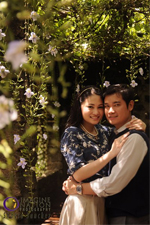 Plaza, Intramuros and Estacion. The covered Plaza, offering an all-white, al fresco is just a few steps away from your own little piece of history in Intramuros, a replica of the 16th century colonial Fort Santiago. Nearby is the Estacion with its grass-covered area giving you a complete outdoor experience with the foresty backdrop of palm trees.
Galera. This venue is for the perpetually young at heart. Centered around an authentic 50-year old wooden fishing boat, this venue, though excellent for children's events, also is endearing for couples who want to relive the playfulness of their childhood,
Ylang-Ylang and Prado are wonderful reminders of the graceful beauty of the countryside. The rustic architecture reflects the purity of this romantic locale. Alongside, the Prado is a meadow of grassfields with the 70-year old mango orchard as its backdrop.
Sevilla. Its muraled walls, paralleled with its greenery inside, treats couples to verdant indoors.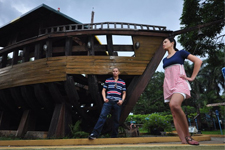 Best of all, Jardin de Miramar pre-nuptial shoot venues come at a promotional rate of only P3,500. And for a minimal fee, they can include a shoot in the popular Casa Santa Museum, hosting over 3,000 Santa figurines and mementos collected from 65 countries around the world. This is sure to bring the joy of Christmas any day of the year and is the perfect venue for December couples.
Couples can also pose with select pieces of art in Jardin - works by famous artists Ed Castillo, Michael Cacino, Ral Aragonte, Hannah Liongoren, Reg Yuson, Daniel Dela Cruz, and murals by Alfred Galvez.
All these lush, luxurious wedding venues are available for your Pre "I Do" Photography. If they say a picture is worth a thousand words, let them be a million at Jardin De Miramar.
Call Jardin De Miramar at (02) 817-1589, (0917) 792-3915 to schedule a sneak peak at Jardin's amazing wedding wonderland.