Wedding Supplier
The Wedding Caterer For The Discerning Palate
By Jonathan Dionisio
May 2011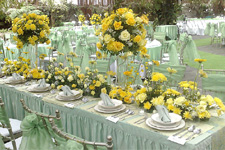 When the guests head home after the wedding celebration, they would not remember all of the wedding details; how the bride looked in her wedding dress, the event styling at the reception, the music played by the band, not even the sweet message of the groom to his wife. But one thing they will surely remember is how the food tasted during the reception. This is why soon-to-wed couples are very discerning about choosing their Filipino wedding caterers. Ordinary soon-to-wed couples are very critical when it comes to this. What more for soon-to-wed politicians, famous celebrities, and people from the alta sociedad?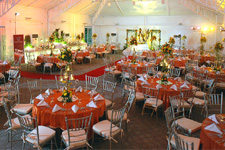 One of the country's leading wedding catering services provider, Juan Carlo the Caterer, face such challenge on a daily basis. In their fifteen years of providing quality food and quality service, they have become accustomed to serving clients with very discriminating taste. Even before starting in the business, they have already met tougher challenges which have made them what they are today.
The owner-manager of Juan Carlo the Caterer, Engr. Alex Michael Del Rosario, came from a family of caterers from Cavite. His exposure to the business at such a very early age became a beautiful and fruitful experience which fuelled his desire to put up a catering outfit of his own.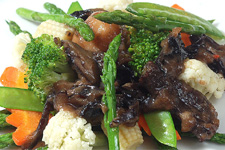 This ambition led him to the Kingdom of Saudi Arabia where he worked as Chief Quantity Surveyor of Al-Khodair Company. There he met the now Mrs. Teresita Macatangay del Rosario, a Batanguena and a Medical Technologist connected with the Ministry of Health of Saudi Arabia. The unique blending of talents and ambitions gave way to the conceptualization and realization of a lifetime dream. Even at the onset of pregnancy, they made it a point to choose a name for their unborn child that will fit beautifully to the business they were contemplating thus coming up with Juan Carlo.
Saudi Arabia became their training ground. There, they put up a mini-restaurant in Al-Khodair campsite and did small catering projects for Filipinos and foreigners as well. The exotic Arabian, Egyptian, Indian, Pakistani, Palestinian and Tunisian dishes became a part of their daily lives, contributing a lot to their knowledge of international cuisine.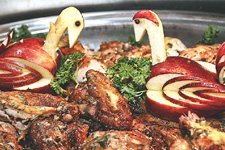 In August of 1995, the del Rosarios, fully equipped with the necessary information and capital, finally came home and settle for good in Batangas - signifying the birth of Juan Carlo - The Caterer. In just a matter of months, Juan Carlo the Caterer was able to conquer the whole of Batangas, even crossing borders to Cavite, Laguna, Rizal, Quezon and Metro Manila.
By serving Filipinos and foreigners alike, Mr. del Rosario made sure that their food was appealing to everyone. Whether it may be an authentic Filipino cuisine, Chinese and Oriental dishes, Japanese, European or any other international cuisine, they made sure that their clients have a unique dining experience. Such practice, alongside with continuous education program for the staff and systems upgrading, earned them the approval of various wedding venue providers thus becoming one of their accredited caterers.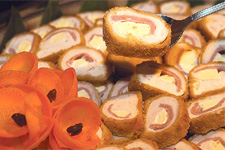 More than garnering the commendation from their peers, they have also earned the raves of numerous high-profile personalities; famous celebrities like former Senator Sotero Laurel, Sen. Ramon 'Bong' Revilla, Jr., Ogie Alcasid, Sharon Cuneta; and government officials, particularly former President Gloria Macapagal Arroyo. Even multinational companies tap them for their corporate canteen operations. Serving such varied clientele time and again is proof alone of the level of excellence and quality dining experience they can provide.
Whether they are serving a high-profile client or a regular soon-to-wed couple, the team of Juan Carlo the Caterer makes sure that their clients receive nothing but delicious food and high-class service they truly deserve.