Wedding Supplier
The Complementing Groom's Attire
by Jonathan Dionisio
01 October 2011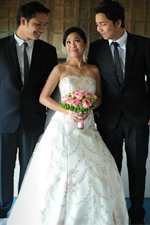 More often than not, finding a wedding attire for the bride is prioritized over finding one for the groom. Normally, the couple spends more time finding a fashion designer to make the bride's wedding gown. They collect magazine clippings and photos searched over the web for inspiration. They visit bridal fair after bridal fair to canvass. And when they find one, it takes even longer to create the actual design, execute it, and attend to fitting schedules to make sure that the bride looks her best as she walks down the aisle.
As for the groom, it is rare for him to take time to find a designer to make his suit. Most end up buying off the rack. For those who do want custom made suits and barongs, finding a tailor may be as daunting as finding a wedding gown couturier. For one, it's an addition to the long list of wedding errands. More importantly, it might not match, complement the bridal attire.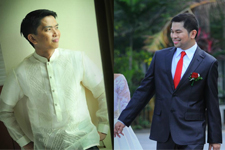 Merlene Marcelo, a respected bridal gown designer also creates groom's attire. Her years of experience in the garments industry; designing and manufacturing clothes for all gender has taught her what men look for in their wedding attire. Grooms can choose between wearing a formal suit or the traditional Barong Tagalog. If he prefers the former, tailors normally create a single breasted cut suit and play with color and the jacket's lapel. But if the groom prefers to go Filipino, then choosing a fabric and embroidery design comes into consideration.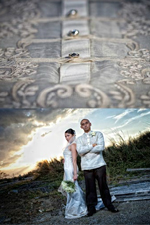 But whatever the groom chooses, one of the first things Merlene considers is the bride's gown design. For this veteran Filipino wedding fashion designer, she believes that as the groom complements the bride, so should the groom's outfit on his wedding day complements his bride's gown. Should the couple desire, the designs of the Barong can incorporate some of the embroidery found in the wedding gown. Known for her intricate artworks, Merlene can integrate her artworks into a Barong Tagalog with elegance and care.
"Having the groom's outfit made in my wedding shop does not only save the couple a lot of preparation time but also allows the groom to experience part of his bride's excitement in having their wedding outfits designed and fitted," she shared.
The groom's attire deserve attention. It is also his wedding day. By walking down the aisle garbed in his best attire, he will look both the perfect groom and the best man by her side.