Wedding Supplier
Merlene Marcelo Couture: Work Of Art In A Bridal Gown
By Jonathan Dionisio
April - May 2010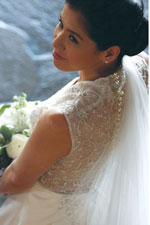 Brides nowadays are well informed of the wedding trends and what type of gown suit their physique. Of course, no bride wants to look like another bride and that's why they spend time researching and collecting ideas from wedding magazine and over the internet just to create their dream wedding gown.
The challenge now lies in the hands of the bridal gown designer. He or she must create a gown that will make the bride stand out from the rest and will highlight her beauty. But one bridal couturier promises to do more than that. Ms. Merlene Marcelo takes pride in making each wedding gown a unique work of art.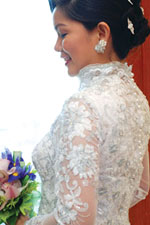 Rise of the Wedding Bridal Gown Designer
After graduating from the University of Santo Tomas with a degree in Bachelor of Arts in Fine Arts major in Advertising, Ms. Merlene Marcelo worked as part of the marketing staff of a garment manufacturing company. While working, her mother established EJM Industries, where she became the lead designer, not of clothes, but of necklaces. Years after, in 1988, Merlene revived EJM Industries with 5 sewing machines to become a subcontractor and designer of clothes sold in department stores. On the sidelines, she designed and created wedding gowns for her friends. And to cater to her growing wedding clientele, Merlene Macelo Couture was born in 2000 shortly after her reputation as a bridal gown designer grew.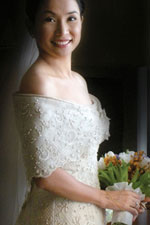 On September 2, 2002, Merlene Marcelo took a leap of faith and formally introduced herself to the Philippine wedding market. Armed with a couple of calling cards, one gown display, her years of experience and confidence; she participated in her first bridal fair, held at EDSA Shangri-la Hotel. "I only asked for one person to believe in me and my work", she shared. But she was not prepared for what was about to happen. Numerous inquiries came in, and only a month after her first formal venture in the Philippine wedding industry, she immediately had 20 bookings. And the rest, as they say, is history.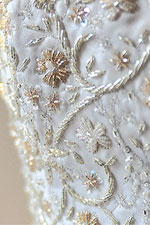 The Makings of Bridal Artwork
Ms. Merlene Marcelo attributes her success to her intricate artworks found on the bridal wears she has made throughout the years. "I'm proud to say that my beadwork is from scratch", said Ms. Marcelo. She shares that she decided to focus on artwork design as an offshoot of the fact that there was a scarcity of French lace materials in the Philippine market at that time. By utilizing her talents in sketching and her inspirations from her trips abroad, she has mastered creating intricate bridal designs for the wedding attires of her clients. "And the promise to each bride, one artwork, one bride", she stressed.
How can her brides be assured that she will not use the same artwork for another bride? She explains that she combines a lot of factors in creating the design – personality of the bride, theme and motif of the wedding, among other things.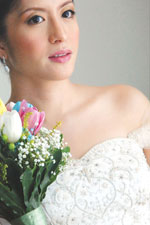 To help the bride fully visualize the artwork to be done for her wedding gown, she makes an artwork guide wherein she translates her sketches into actual beadwork design. "What you see in the drawing is what happens at the end," adds Ms. Marcelo. On her part, she does this to see if her wedding design is actually feasible to work on and to serve as a guide when she and her staff create the bridal gown. This artwork guide will then be a part of the file of the bride and will remain exclusively for her.
The artwork found in a wedding gown is not mere beads, crystals, and ornaments sewn together by a thread. Every single part of the wedding gown is a representation of the bride as a person. Each swirl and curve translates to a woman's femininity and grace; the stones and gems, uniqueness and rarity; and the form, charm and finesse. More interpretation can be derived from Merlene's artwork-laden gowns. But one thing is for sure: with the skill and passion Ms. Merlene Marcelo puts in every bridal gown she design, every bridal gown is surely a work of art.
Visit Kasal.com's Wedding Resources (Design & Couture: Bridal Fashion Category) for the complete contact details of Merlene J. Marcelo Couture.