Wedding Supplier
The Passionate Wedding Photographer
By: Diane Dominique Ting
January 2012
"If you do something you love, you'll never have to work a day in your life again."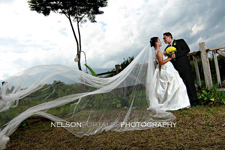 In 2007, Nelson Portales was an Overseas Philippine Worker based in Singapore. When he was not busy working, he had photography to keep him company. Shooting the busy street life of Singapore became his past time and started his 'love affair' with the camera. When he was stationed back in the Philippines in 2009, he tried his hand at freelance wedding photography in Baguio City. Nelson Portales then realized that wedding photography is his passion and Nelson Portales Fotos & Films is born.
Nelson explains how shooting weddings are far different from shooting street portraits. Although photos taken from the streets have a vibrant aura, Nelson felt the pain and suffering of his subjects. For the once street photographer, he does not want to use the desolation of people as subjects for his art anymore, especially when he cannot do anything to help them back. With weddings, not only does he get to shoot in beautiful settings but he gets to capture love and joy.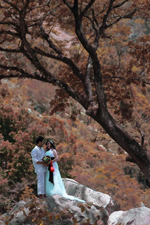 Preparation is Key
Even with just over a year of experience in the wedding industry, Nelson understands the value of meeting (and hopefully exceeding) the expectations of his clients. Meticulous planning is key. In fact, prior to every event, Nelson sees to it that each member of the team knows his or her function during the occasion. He and his team even use two-way radios to communicate all throughout the couple's special day.
Nelson's 3 Secrets to Success
Aside from planning, Nelson makes it a point to follow three basic principles in servicing weddings. One, looking good is simply a must. To avoid being an eyesore, Nelson requires his team to always come in formal attire. Two, having an objective and presence of mind are critical. He teaches his team to prepare a shot list and be always ready to capture special wedding moments. Lastly, feeling good during work is also essential. Nelson believes that a positive attitude can bring out the most creative work output.
A Touch of Personalization
Candid shots are a staple of Nelson Portales' wedding photos. However, Nelson Portales Fotos & Films also creatively arrange shoots to give couples personalised mementos. Nelson recalls how his team made the prenup of a Starbucks Coffee-loving couple more endearing to them. There was no better location to shoot the couple's pre-nuptial video but in the coffee shop they loved dearly. Nelson and his team made it happen amidst the hustle and bustle in the shop and even included these clips on their on-site audio-visual presentation.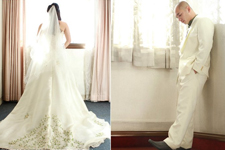 For year 2012, Nelson envisions his company to 'go back' to traditions. He would like his photos and videos to showcase the unique cultures and traditions be it of Baguio weddings or whichever wedding destination his clients choose to bring them. After all, Nelson Portales Fotos & Films is more than ready and flexible to take their photography service anywhere in the world.
One thing will never change though, his passion for this art. Seeing people cry and laugh out of happiness because of Nelson Portales Fotos & Films wedding pictures and videos are but priceless to him. This is more than enough reason for him to persevere and be better at his craft.