Wedding Supplier
Keeping the Traditional Philippine Wedding Gown Alive
By Jonathan Dionisio
May 2011
One of the Philippines' most famous products is the piña fiber. Born during the Spanish occupation, the piña fabric was a symbol of a defiant race against the rule of Spaniards that Filipinos were forbidden to have any imported fabric next to their skin. Now, it has become part of the identity of Filipinos worldwide.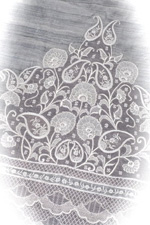 This ivory-white colored fiber is made from pineapple leave fibers and manually loomed by expert weavers. Being labor intensive, it has become one of the most luxurious indigenous fibers in the country. This indigenous material is commonly used to make traditional Filipino wedding dress and formal attires. But before a designer is able to create a masterpiece using this fabric, it takes about one whole week to weave piña fabric enough for a bridal gown. After that, it takes approximately two months to complete a fully hand-embroidered piña wedding gown. With the introduction of Western fabric and other alternatives like silk and cotton, Filipino wedding fashion designers have slowly shun away from using the piña fiber.
Sadly, this once celebrated fabric is slowly disappearing from Philippine wedding fashion scene. Seemingly, more designers prefer to use more modern materials. Even brides and grooms would not have pina fiber in mind. But in the province of Laguna, one Filipino wedding fashion designer has managed to keep the tradition alive and continues to offer traditional Filipino wedding dress made from this native fiber. She is Dra. Rhodora Peñaflor Anonuevo of Piñaflor (Simply Rockflower).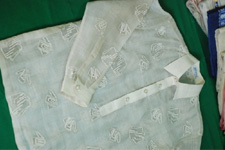 Preserving the Tradition
A doctor by profession and a member of the Perinatal Association of the Philippines, Dra. Anonuevo has been designing and creating traditional Filipino wedding gowns and Barong Tagalog for the past few years. Insider her shop in Lumban, Laguna, one will see boxes of pina fiber with intricate designs that are woven by hand. Following tradition, workers still use vegetable dye from leaves and barks of different trees to color the fabric. Of course, pina fiber is never complete without embroidery. Dra. Anonuevo and her staff still practice the calado, a hand embroidery technique which originated from Kalibo, Aklan. Aside from embroidery, they also apply hand painted designs on the fiber to give it a unique look.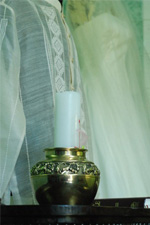 Such style and technique has made her wedding gowns and Barong Tagalos stand out from the rest. Each wedding gown and Barong Tagalog showcases pure Filipino ingenuity and creativity. It possesses very intricate designs that exhibit Filipino heritage and history. And most of all, brides who have decided to wear this traditional wedding dress walks down the aisle carrying a statement of elegance and symbol of true Filipina beauty.
Flourishing and Surviving
Despite the existence of more modern bridal gown fabric like Mikado silk, silk duchess, and French lace, this Filipino wedding fashion designer continues to use pina fiber for her bridal gowns and groom's attire. By doing so, Pinaflor allows the traditional Filipino wedding dress to a part of Filipino weddings here and abroad. More than this, Dra. Anonuevo continues to give the people of Lumban, Laguna employment opportunities and a chance to further practice this tradition which make Lumban the Embroidery Capital of the Philippines.