Wedding Supplier
Davao Wedding Photography: Going the Distance
by Jonathan Dionisio
August - September 2010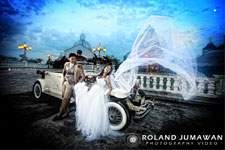 Wedding photographs are very precious memorabilias for the bride and groom. Apart from their wedding videos, the photos printed on their wedding albums are the best way to recall their fun-filled moments and relive the wonderful experience. Thus, soon-to-wed couples nowadays are very discriminating when choosing a Filipino wedding photographer. In most instances, they prefer to choose a wedding photographer based in Metro Manila.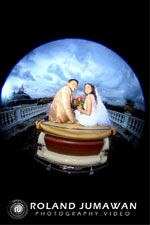 Little do couples know that wedding photographers based outside Manila can be just as good. They are also updated with the latest trends and techniques and some have already made their mark in the Philippine wedding photography industry. One of which is known Davao wedding photographer, Roland Jumawan.
The Wedding Photographer from Davao
Roland "RJ" Luna Jumawan has captured unforgettable moments, not only for weddings but also for the mass media. In the early 90s, Roland Jumawan started contributing to various daily newspapers, both local and national. From 1997 to 2003, he worked for Mindanao Daily Mirror then moved to Mindanao Insider Daily until 2006. His experience in photojournalism honed his photographic skills and artistic concepts. Like many veteran Filipino wedding photographers, he too started off using film camera then shifted to digital photography later on.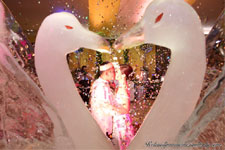 Even though Roland Jumawan's photography shop is located in Davao City, he has already served a number of soon-to-wed couples not only in Davao region but also in nearby provinces and even in Metro Manila. In fact, he is one of the few Davao wedding photographers who won awards from the Davao Catholic Mass Media Awards, Kodak Philippines, Epson, Philippine Airlines, and Department of Tourism. Last year, he was recognized by the 2009 National Shoppers' Choice Annual Awards as the No. 1 in Digital Photography Services (Davao City). Roland Jumawan is also an associate member of Wedding and Portrait Photographers of the Philippines (WPPP), the premier Philippine wedding photography association.
And more than adding feathers to his cap, Roland Jumawan does not forget to help his kababayans who are interested to learn more about photography. Every now and then, this award-winning Davao wedding photographer shares his knowledge and experience to aspiring Davao wedding photographers.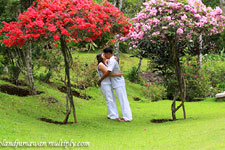 Unforgettable Wedding Photographs
Ever since he started taking photos, he has only one criterion for a good photograph - it must be unforgettable. Like covering newsworthy events, he tries to capture every precious moment of a couple's wedding. Applying his skills in photojournalism, he creatively documents the various emotions of the occasion, be it as romantic as the display of affection of the groom to his bride or as funny as the ring bearer creating mischief. Each time his camera shutter makes a sound, an unforgettable moment is captured, preserved, and handed to the bride and groom to cherish forever.
Today, Roland Jumawan continues to hone his craft, attending seminars and even helping arrange WPPP workshops in Davao. He puts no boundaries to what he can learn or the couples he can serve. Wherever the wedding location is, he only wants to share with soon-to-wed couples a lifework he is very good at - wedding photography.
. . . . . . . . . . . . . . . . . . . . . . . . . . . . . . . . . . . . . . . . . . . . . . . . . . . . . . . . . . . . . . . . . . . . . . . .
Visit Kasal.com's Wedding Resources (Photo and Video: Photography Category) for the complete contact details of Roland Jumawan Photography.