Wedding Supplier
Devoted To Details
Manila Bulletin
23 June 2010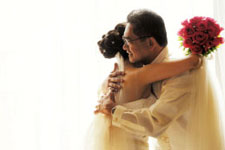 People who are into details come up with better images because their idea of the big picture is to ensure every element captured makes sense. Ghie Javelosa, a woman sharp on seeing things the less-caring eyes cannot see, has helped transform what was initially just an extension of a growing business into a success on its own.
She is behind the flourishing photography venue called Studio A. Since 2002, this studio has steadily carved its reputation as a top tier in the highly competitive business district of Makati, with Ghie as its star player. It specializes in wedding photography, having been created out of wedding photographer Ariel Javelosa's idea of putting the business closer to Makati-based clients.
"My best accomplishment so far is helping shape the status of Studio A, from its humble beginnings to where it is today," she said. "Clients who eventually became close friends resulted to recommendations, thus helping grow the business and inspire me more in creating photographs that speak of my passion for excellence."
With support and blessings from her Kuya Ariel (who is known around as a "client favorite" in the wedding field), Ghie established Studio A where effective personalized service is guaranteed – satisfying families wanting their special gatherings documented. It is widely accepted in the industry that "her keen eye for details and creative vision transform elements and subjects into beautiful and truly remarkable photographic images."
In many occasions, couples find it awkward to show affection for each other with a camera in front of them. But Ghie has a natural gift in establishing rapport with clients she barely knows. Without the married people noticing it, that shyness that's keeping them from showing their true touchily-romantic selves disappears. They become comfortable with each other while the camera flashes on. "My role is to ensure that the year-long preparations of the couples are rewarded once they get to see their photos."
More often, the bride and groom appreciate the setups and details like flowers and gowns after Ghie has shown them the photos. Her ability to see beforehand what's essential for the photos is the mark of someone whose eyes are visually scrutinizing enough to see the value of each thing that gets into the frame.
Likewise, her humor seems to play a vital role in the shoots. She makes people laugh, letting everyone feel the celebrative mood instead of the photo requirements for the wedding. As jokes are thrown around, she's one to never forget assuring clients that she knows what she is doing. She may be open for style or trick suggestions coming from couples who rely on sheer gut feeling. But once she realizes that her authority as a professional photographer with a competent portfolio to boot must take over, she seriously puts her experience into the conversation for the good of everyone.
"Our team thrives on three principles: integrity, focus, and discipline. Honesty is and will always be the best policy. Our team's ability to keep focused despite all the odds and the unforeseen events when doing the 'coverage' is deemed vital to keep up with our clients' expectations. Discipline strengthens our team's endurance to meet all the challenges head on," Ghie disclosed.
After finishing college at the PUP (Polytechnic University of the Philippines) where she took up Business Administration, Ghie was assigned to take care of daily operations in a small studio of her Kuya Ariel. That was in 1993 and her exposure to film-based photography was made possible with her handling of some services in the said studio. She took ID pictures of students and that of dental patients before and after their visits to the dentists.
As a kid, this native of San Pablo City, Laguna had developed fascination with magazine photos that she even compiled those used as dried fish wrappers to look into the images. In 1995, she finally gave in to her passion for photographs and enrolled at the basic and advanced photography workshops conducted by the FPPF (Federation of Philippine Photographers Foundation) in Intramuros, Manila.
Now a member of WPPI (Wedding & Portrait Photographers International), she has become known for her elegant, classy shots of brides who appear in their pettiest, sexiest, and most confident look while posing in front of her camera. She recently attended WPPI's convention held at the MGM Grand Hotel in Las Vegas, Nevada. Not bad for someone who was then just collecting outdated magazines to satisfy her craving for good published pictures.
"My ultimate goal as a visual artist," Ghie said, "is to create something meant to last long after I have retired in the industry."
She does talk about the big picture at times. But that is after all the necessary details are already well taken care of. Besides, her retirement is for sure the least detail needed by the thriving Studio A.
. . . . . . . . . . . . . . . . . . . . . . . . . . . . . . . . . . . . . . . . . . . . . . . . . . . . . . . . . . . . . . . . . . . . . . . .
This article and its photo are republished with permission from Manila Bulletin (http://www.mb.com.ph/articles/263356/devoted-details)