Wedding Supplier
Intimacy, Modernity, Artistry in an Antipolo Wedding Venue
August 2011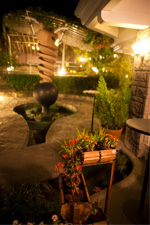 The sprout of many garden wedding venues both in and out of Manila provided soon-to-weds with an alternative wedding setting away from the traditional and the ordinary.
Mrs. Cynthia Picones, the owner of a wedding venue in Antipolo, Rizal, aims to take couples much further – by marrying intimacy, world-class amenities, and artistry in one wedding setting that is Velada Estate.
Intimacy. Velada Estate offers couples privacy and seclusion, perfect for solemn or intimate wedding gatherings. And unlike other wedding venues that are difficult to locate, Velada Estate is barely an hour from Manila and can easily be found by your wedding guests along Sumulong Highway in Antipolo.
Artistry. An interior designer by profession, Mrs. Picones creativity and artistry is evident in the designs of Velada Estate. This wedding venue features some unique art pieces like the more than a life-size sculpture of a man and woman entwined which symbolizes the circle of love that never ends. Other noticeable features are the wooden furnishings and some antique pieces tastefully placed in certain parts of the venue.
World-Class Wedding Facilities. Designed to cater to every wedding need, Velada Estate offers the following wedding venue options: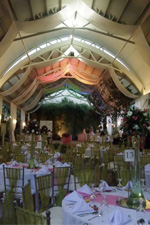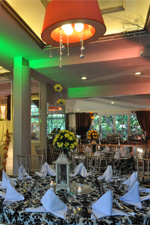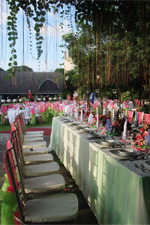 - El Patio is a huge wedding pavilion that can accommodate up to 400 guests. It is surrounded with tall and old fruit-bearing trees allowing couples the feel of a garden wedding and the comforts of a covered wedding venue.
- La Casa, on the other hand, is a fully air-conditioned, 120 seater area with high ceilings, cove lightings and center lights. It is also fully equipped with a state-of-the-art Bose surround system.
- El Fuente is an elegant greenery with modern landscaping ready to seat 200-250 pax. Furnished with a contemporary trellis, a misted paved area and a small pond, it is also perfect for Christian or ecumenical weddings.
Velada Estate is also equipped with fully furnished dressing rooms and elegantly lit restrooms. It also has a specialty coffee shop, Sarten Café, where guests can stay and even grab some vegetarian fares.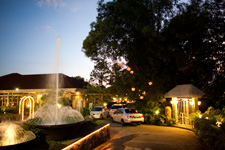 Continuous Innovations. "Change is necessary to keep the clients coming." Mrs. Picones shares that they plan to provide accommodation facilities for their clients. "It is a big decision to make," said Mrs. Picones "but we really have to keep up to the demands of the clients." Starting with at least four rooms, she envisions it as an intimate bed and breakfast extension of their wedding venue facilities.
Mrs. Picones also shared that they plan to put glass walls around El Patio to give it a more elegant feeling and make it fully-air conditioned — offering couples a garden wedding venue in cool surroundings.
Eyeing to make these two big projects available by early next year, these are testaments to Velada Estate's commitment to offer couples an Antipolo garden wedding venue a step or two beyond compare….