Wedding Supplier
Velada Estate: Like Having A Wedding At Home
by Jonathan Dionisio
July - August 2010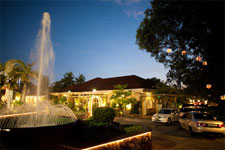 Before, events such as wedding were usually held in the residence of family members owning spacious gardens or lots. If none of the immediate family members had access to one, they turned to their neighbors and close friends and ask for any available space to the purpose. Then all would be left to the 'organizers', from bringing in the utensils, and preparing the food for the event.
Nowadays, soon-to-wed couples search for a wedding reception venue that can accommodate all their invited guests. With the number of Philippine wedding venues to choose from, it is now up to the bride and groom, together with other decision makers, to decide on which to prefer over the other.
Velada Estate is one of the established Philippine garden wedding venues situated in Antipolo, Rizal. Velada Estate Management Corporation's Ms. Pamela Picones shares that soon-to-wed couples consider several things in selecting their wedding venue.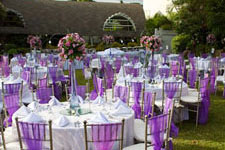 Factors and Considerations
For one, location is not anymore an issue for couples. Ms. Picones said that if the couples really like the venue, they book it immediately wherever it may be. According to her, couples depend their decision based on their priorities. Some couples already have a concept in mind that they want to pursue. "For example, if they really want a garden venue, they'd really find one," she said. Others, on the other hand, base it on the overall feel of the place. Some search for a specific look in their venue that may well blend with their chosen theme.
Velada Estate has three separate venues that will surely satisfy every couple's taste and preference. La Casa is a residence converted into a fully air-conditioned indoor venue. It has a 120-seating capacity, fit for formal and solemn affairs and for those looking for a home ambiance.
El Fuente will capture the interest of couples who wish to have an authentic garden wedding ceremony and reception. Surrounded by lush greenery and enhanced by modern landscaping, El Fuente gives a feel of exchanging vows in one's very own garden or backyard.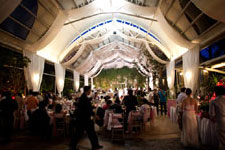 Vulnerability to weather conditions is the most common problem with Philippine garden weddings. Velada Estate's El Patio offers a solution to this dilemma. It is a huge pavilion sheltered by tall and old fruit-bearing trees that provide protection from the elements and a unique garden experience due to its fragrant background. It can readily seat 400 guests, which also makes it ideal for holding thematic weddings.
Since wedding celebrations are composed of two parts, the ceremony and the reception, some couples would prefer holding them in one place. However, this is not always possible. Some, like Catholics, are requested to hold their wedding ceremonies at the church. As shared by Ms. Picones, other religions are less strict when it comes to the venue of the wedding ceremony. That makes Velada Estate ideal for any scenario. Any of its three venues can serve as the ceremony venue. On the other hand, its proximity to Catholic churches in the Antipolo area makes it possible not only as a wedding reception venue but also as a preparation venue. Since La Casa was initially a house, it has two rooms where the bride and groom can dress up and prepare for the wedding. A new room is set to be constructed soon to accommodate the members of the entourage.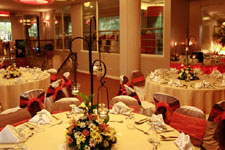 Being At Home
In the end, most couples choose a Philippine wedding venue where they feel right at home. A wedding is first and foremost a family affair. Ms. Picones said that this is literally what Velada Estate offers – giving soon-to-wed couples a chance to hold the affair in a place they could call their own. "It's like having your party at your own house," she adds. With the atmosphere and the facilities of Velada Estate, holding a wedding there is like holding it in one's own hacienda or estate. Simply the next best thing.
Visit Kasal.com's Wedding Resources (Reception - Gardens Category) for the complete contact details of Velada State.