Wedding Supplier
Wedding Artistry in the Genes
By Jennifer Federizo
February - March 2011
Like father, like son. Cliché, maybe? But in the case of Danny and Bogs Ignacio, father and son respectively, the fruit certainly did not fall far from the tree. But then, who's to complain? Certainly not the people whose lives they touch with their brand of visual poetry.
Through their wedding studio, Vignette Photography, their art has definitely earned them both accolades and praises from organizations and clients alike. The dream effect, the dramatic aura, the enchanting colors…A Vignette photo does seem to paint a thousand words, speaking to its audience. And with such to show to loved ones and friends, wouldn't any newlyweds be proud to have their lovely moments captured by the lenses of an Ignacio?
Vignette Man
Danny Ignacio never really thought he'd be in the wedding photography business. Or at least, it didn't cross his mind until much later. He found he was more interested in pursuing a life in the wedding photography industry rather than in being the Project Evaluation Officer of a national government company. His educational background, after all, boasts of two Engineering degrees – Civil Engineering and Sanitary Engineering. That was in 1988.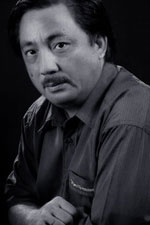 The shift was sudden but welcome. Perhaps, on the belief alone that it was photography that would make him happier, it is safe to call it a 'paradigm shift.' It was a change too radical, but then again, it was where his passion lay.
And so, together with a partner, their first studio, then called AD Photography and Video Services, was born and put up at Robinsons Manila where it stayed for six years. Danny became the in-house photographer of the Manila Midtown Hotel (Ramada). The studio then moved to Midland Plaza Hotel and became Vignette Photography. By 1996, Danny became its sole proprietor and still is, up to this day. Now, there are several party and wedding venues in Manila that have commissioned his services as in-house wedding photographer: Diamond Hotel, 1 Esplanade, Ilustrado Gardens, City Garden Hotel, Ibarra's Garden, Plaza Ibarra, Patio Ibarra and newly opened Bella Ibarra. Surely, these are signs that his wedding business is doing good.
On a more personal side, Danny is doing just as good, living his dream, for two decades, and counting, it seems. "Photography for me is a passion, much more a living" (Manila Bulletin, July 28, 2010). And he is serious about it.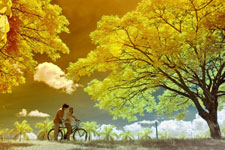 For one, he is a founding member of the Wedding and Portrait Photographers of the Philippines (WPPP). Just like the birth of Vignette Photography, that of WPPP was not exactly planned either. Helping found such a group was not in his list of things to do, but they saw the need "to bring wedding photographers together and promote and foster their goals and programs. He ended up becoming a founding member of the group" (Manila Bulletin, July 28, 2010).The Wedding and Portrait Photographers International in the U.S. was also so impressed by his portfolio that he was accepted as a member recently. He, too, is revered as the only Filipino photographer granted full-member status by the renowned Australian Institute of Professional Photography (AIPP). And because of his success as project chair of the 2010 WPPP Photo Congress, he is recently unanimously voted as the President of 2011 Wedding and Portrait Photographers of the Philippines.
Danny doesn't really say much. He just lets his credentials and portfolio speak for him.
Vignette Man, Too
Amongst Danny's creations, one stands out as his best work of art – his son. And why not? Not only has Bogs, the son, followed his father's footsteps; he has made Danny proud with his own personal achievements in the field of wedding photography.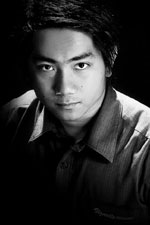 This wasn't always so, though. He only fell in love with the visual art when he was 17. It was music that was his first love and he used to dabble much in it, him and his guitar. In fact, his original plan was to go to the Conservatory of Music, but thinking there was no future for him there, he "did a Danny" and shifted gears, ergo, changing the course of his life. Bogs decided to take up A.B. Multimedia Arts at the De La Salle-College of St. Benilde.
It was here that Bogs finally decided that he loved wedding and portrait photography. He became such an enthusiast that he began searching and reading a lot of books and magazines about photography and surfing the Internet for more, more, more about his new passion. He liked it so much that Bogs bagged the "Best of Multimedia Arts Student" award in the Digital Photography category at the Bright Lights awarding for 2007-2008. That was only the beginning. Soon, Bogs would be garnering more recognition for his chosen field.
At the Bridal de Manila Book 2 held on June, 2010, Bogs and Danny won Photographer of the Year. It was Bog's back to back title as he also won the Bridal de Manila Book 1 Phtographer of the Year in 2009. He was also awarded as an International Awar-Winning Photographer for 2011 by the Wedding and Photographers International (WPPI). Later in a separate competition, the WPPP hailed him – their youngest and probationary member – as the winner for the Photographer of the Year award,…the same award his father won in 2008!
"I saw it coming," Danny told Kasal.com then. "When his photos became placers in the monthly photo contests of WPPP, I said to myself, 'He has a chance, he can make it,'" he added. Danny supported him all the way, encouraging the younger Ignacio. No father was ever as proud.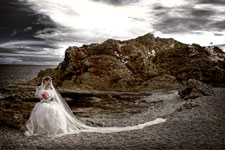 Bogs certainly deserves the attention and admiration as he earned these through his own perseverance and desire to improve his craft. When he began work as a wedding professional, he accepted it as a training rather than a job. He earned not a single cent. That was how serious Bogs was.
For his love of wedding photography, he is willing to devote time, effort and energy everyday, for a lifetime, perfecting his art. Which is good because he seems to be loved back.
The Vignette Brand
There are perhaps many good wedding pictures taken by other talented wedding photographers. After all, no one has a monopoly in the Philippine wedding photography business. Nevertheless, there are good photographers, and then there are great ones. In the great ones, that is where the Ignacios belong.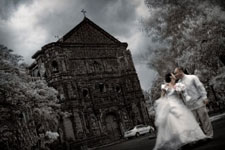 Vignette Photography mainly specializes in wedding photography. Since they started, many newlyweds have enjoyed the Vignette brand of service: quality wedding photos taken with a lot of imagination, effort, love, and painstaking care. In every shot, every angle, every effect, there is a story to be had. The look in the bride's eyes, the smile on the groom's lips, the sweetness of a kiss, the joy on their loved one's faces…all these captured by the lenses. When it's a Vignette Photography wedding photo, it is assured that no one is left disappointed.
This is assured as Danny himself has instructed his people to always do their best for every client as "…he firmly believes that good is not enough and that the best is always the goal for any project. Whether it is a small or high-profile engagement, he reminds himself and his staff to make sure that they deliver and give their 'A game' for every client" (Kasal.com).
Danny himself has always had this mindset. He was an experienced wedding photographer, he knew the principles, he had an eye for details, and yet, he knew that those were not going to be enough to keep them going. Always, change is constant. He knew this and realized the need to change more when the digital era came. It was time to shift gears once more. Shifting gears then meant training himself with this new technology for him to gain proper know-how's and be updated. Danny read books, attended seminars, invested on new equipment—and all of these paid off.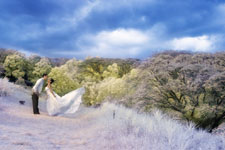 Vignette Photography is known for their digital infrared photography in wedding and portraiture with "false-color"- skin tone effect. They have incorporated this style in their works, coming up with one masterpiece after another. Clients fall in love with the Vignette works of art.
Infrared photography uses infrared light and filters. The effects can be quite beautiful. There are the "in-camera effects" which, according to Wikipedia, "is any special effect in a video or movie that is created solely by using techniques in and on the camera and/or its parts." This can be achieved through the "Wood Effect" – named after infrared photography pioneer Robert W. Wood – which creates a snowy illusion, caused by foliage reflecting strongly. False-color or black-and-white images appear wonderfully dreamlike or lurid. Other attributes of infrared photography are "very dark skies and penetration of atmospheric haze." Mainly, these techniques involve light, which is an important factor in photography. But however done, the effects are often breathtaking.
Infrared photography is not a new concept entirely. It is actually old, but is new in the sense that it found its way into the digital world. The how-to's may have changed, but the principles are still the same. And thanks to Danny, some Filipino wedding photographers learned and use this. It was actually Danny who introduced it to WPPP.
The Vignette Testament
As attested by former client Ian Pacaña, now married to Menchu:
"Vignette's infrared photos were able to capture the essense of discovering life as a paradise. Our friends and families were fascinated at the dramatic beauty and uniqueness of our pictures!
Every couple dreams of finding the perfect photographer to take those perfect photographs. I am happy that I made the right choices: choosing the love of my life, and choosing Vignette to capture these vibrant memories that will last us a lifetime."
One need only to visit their website to witness the beauty of a Vignette masterpiece.
However, the art is only as good as its artist. No amount of techniques will turn out a great piece if not for the artist who has given it his best. And the Ignacios certainly give their very best!
This is the brand of Vignette Photography. Every precious moment is captured by the lenses; every heart is captured by the memories frozen in time. Surely, what could be better than that?