Wedding Supplier
Designed To Be Great: Bacolod's Ysabelle's Bridal Shop
By Gretchen Callejo
15 December 2011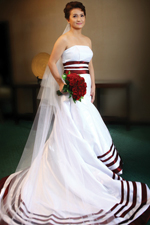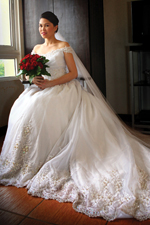 The interest in having an exquisitely and artistically designed wedding gown is more often discouraged by the impression that these are only created by expensive fashion designers. Surprisingly, there are good designers out there who can provide an almost (if not the same) equally exquisite and artistic bridal gown yet at very affordable prices. Just like one of Bacolod's premiere wedding vendors - Ysabelle's Bridal Shop.
Humble Beginning
Ysabelle's Bridal Shop is owned and managed by husband and wife team of Roy and Lynette Villanueva. Roy's family was into fashion business which greatly influenced the creation of Ysabelle's Bridal Shop in 1996, 2 years after the lovely couple tied the knot. Their inspiration for their first-ever venture into business was their first born daughter, Ysabelle (now you know who is Ysabelle).
Ysabelle's Bridal Shop back then was just a gown rental shop. The company started small having only the husband and wife as the sole workers. Lynette shared how difficult it was for them, especially for her who had to learn everything at once. It was even harder when in year 2000, they have expanded to offering their own bridal designs as they moved to Bacolod City, Negros Occidental (they were originally situated in another town, San Carlos City). Out of love and commitment to her family, Lynette gave her best to learn the ropes.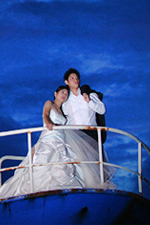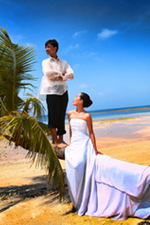 In 2006, her efforts paid off and Lynette became the head fashion designer of Ysabelle's Bridal Shop. Roy, on the other hand, seeing the demand for good wedding photographers in the Visayas, setup the company's wedding photo and video services – Ysabelle's Digital. In 10 years time, they were able to expand the business and open branches in San Carlos City, Negros Occidental (1996), and penetrate Iloilo wedding industry (Ysabelle's Bridal in Iloilo City, 2003) and Negros Oriental wedding industry (Ysabelle's Bridal in Dumaguete City, 2009). And what used to be just a husband and wife tandem grew to a skilled team of 30 wedding professionals.
The Threefold Commitment
What's the secret of their success? Lnynette shared with us their threefold commitment to their customers.
Quality & Craftmanship: Ysabelle's Bridal Shop would not have lasted this long, and now producing 7 gowns a day, if not for their commitment to quality. They strive to deliver good products - be it wedding gowns or wedding photo-video service. They are their own work's critics and they regularly update themselves with the latest in wedding trends to ensure that their different branches offer nothing but the best.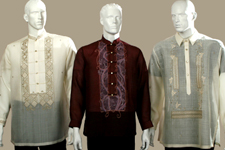 Customer Satisfaction: They always consider what their customers want, but make sure these do not compromise their standards and policies. As Lynette shared, "Never ever promise the moon and the stars". On the other hand, a promise that Lynette vows to keep is her commitment to schedule and deadlines. They strive to be always on time, and this has helped put Ysabelle's Bridal Shop on their customers' top list.
Friendly Service: Apart from offering affordable wedding gowns and attires, the company also entertains their customer with much enthusiasm. Roy and Lynette themselves are friendly, warm people who can immediately put customers at ease.
For the past 15 years, the company had taken small yet steady steps, continually improving and growing to become one of the biggest wedding shops in Bacolod City, Negros Occidental. In the years to come, Ysabelle's Bridal Shop envisions to have branches in all major Philippine cities. Thus, they continuously uphold their threefold commitment and strive to provide more and more quality, affordable bridal gowns and attires every day.