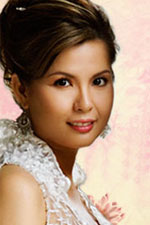 Every woman has dreamed of being the most beautiful bride on her wedding day, to walk down the aisle wearing an elegant gown, with family and friends who are happy for her and the man of her dreams waiting at the end of the aisle. But as every couple is faced with budget concerns in this day and age, Before I Do Bridal Fair Series is taking the lead to provide wedding resources and options to assist soon-to-wed couples in ensuring them that there is a way for dreams to come true, without going over budget, especially for basic wedding necessities.
Planning your dream wedding need not be expensive. We are often asked if 200k is enough for a decent wedding. And the answer is "Yes"! What's the catch? First of all, every couple has their own definition of "decent". Also, one's definition of "simple but elegant" comes into play. Surely you cannot squeeze a Vera Wang gown into that budget, but you can still have options of having a similar gown made by your "suking" mananahi (seamstress). Everything boils down to priorities. Priorities differ from one couple to another. Find out what is most important to the least important item for your wedding. But in planning your wedding, the first thing you have to consider is the number of people you intend to invite because this will definitely have an impact on your wedding budget.
Why? Just think about it. The more guests you have, the more you'll have to spend for:
1) invitations – that is if you are to follow proper wedding etiquette. But here in the Philippines it is common practice that one invitation is for one family. However, separate invitations should be sent if any of the children or siblings is/are already married.
2) venue – you'll need a bigger venue if you're inviting more than just your close friends and relatives. Have you talked with your parents? You might be surprised with how many of their amigas and amigos they have invited to come to your wedding.
3) wedding attire of your entourage – if you plan to pay for their attire, whether it is just going to be for the entire attire, fabric or labor alone.
4) hair and make up of your bridal party – if you also plan to pay for their hair and make up. How about your close relatives who are staying the night with your family?
5) accommodations – you might be asked to shoulder the accommodations of some relatives who are attending your wedding.
5) entourage flowers – the bigger the bridal party the more bouquets you have to provide.
6) food – more guests means more food. Also consider the serving style, whether it's going to be buffet, lauriat, family-style or sit-down.
7) souvenirs – Filipino guests are fond of collecting wedding souvenirs (they are so fond of it that they will ask for one or two more souvenirs). A common practice once again is one per family, but that would depend on the type of souvenirs you want to giveaway on your wedding day.
In general, less is more… Less guests, more savings. It is best to draw up your guest list before you book your suppliers. From there you can size up your budget if you can accommodate everyone on your list. If not, better to cut it down before you announce your wedding date and send out invitations. Be open to options. But as the saying goes, "you get what you pay for". Remember that quality products and services don't come cheap. And getting "cheap" suppliers directly mean savings for you. Check out each supplier if they are really cut out for you.
Research + Patience = Dream Wedding. There are so many ways to find that illusive supplier who can provide the service that you need at the price that you can afford. Online resources such as Mybridalfair.com, Kasal.com, ClicktheCity.com and 88DB.com can provide you necessary articles and contact information of wedding suppliers. You can browse through the beautiful pages of Metro Weddings Magazine and fall in love with their creative and practical suggestions to make your dream wedding a reality. You can also find valuable information when you join online forums such as myKASAL.COMmunity to get reliable recommendations from soon-to-wed couples and brides. Topics such as "best caterer" and "affordable wedding package" are actively being discussed.
If after all of that your budget is still not enough, you can try the next best thing to replace your priority suppliers or wedding details. Like instead of using imported roses, you can use local roses. Instead of getting the most expensive package of your favorite photo-video team, why not get a lower package and still enjoy the service of your favorite supplier? If everything fails, you can always ask family and friends to make this a bonding "Do-It-Yourself" Project. What's important is that you get to enjoy your engagement, wedding preparations, celebrate your union with the people dear to you and save as much as you can for the coming months and years to come. Because at the end of it all, your priority is to marry the one you love. All it really takes to get married is a groom, a bride, someone to officiate the wedding and two witnesses… and of course the wedding ring. All the rest is just the icing on the cake.
Before I Do Bridal Fair 5th Edition runs for two days, May 9 & 10, 2009, at Megatrade Hall 3, SM Megamall, Mandaluyong City. Here you'll find affordable wedding necessities that can make a difference with your wedding budget. MyBridalFair.com teamed up with Metro Weddings Magazine, Kasal.com, Rabbit Advertising, Jam 88.3, Wave 89.1, Magic 89.9, 99.5 RT, 103.5 Max FM, Manila Bulletin's Lifestyle Section, BusinessWorld, Clickthecity.com, 88DB.com and Herword.com as sponsors and media partners to ensure that guests will enjoy their wedding supplier "shopping" experience. Door prizes from sponsors and exhibitors will be raffled during the 2-day event. To make things more enjoyable, an 8days 7nights cruise is up for grabs for soon-to-wed couples who will book their suppliers at the fair. Also, to celebrate the wonders of the Philippines, soon-to-wed couples are encouraged to send in their favorite destination prenup shot to win the Best Destination Prenup Photo Contest. Winning couple gets to win a wedding cake from VRC Creative Events!
This event is presented by Mybridalfair.com and Metro Weddings Magazine together with 7107 Islands Cruise. This also sponsored by Mr. Hardinero Flowershop (official event stylist), Happy Events (sound engineer and program host), MSD GodSpeed (official contractor), Robert Lester's Digital Profile, Megatrade Hall and SM Megamall. Mybridalfair.com is powered by Bizadsolutions.com. Before I Do Bridal Fair 5th Edition will also feature entertainers such as Glisten, SJT Strings, Saturday Night Project and WedPlus.
Bring your girlfriends, mom, and even your fiancé at the fair and enjoy the day. Gain free entrance to Before I Do Bridal Fair 5th Edition by simply texting BIDO5 <Your Name> space <Wedding Date> space <Email Address> to +908 996 7676. You can also register online at www.mybridalfair.com.
Comments
comments