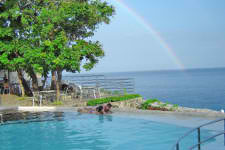 By Jonathan Dioniso | September 2009
From ordinary couples to famous celebrities, more and more couples are saying 'I do' to the concept of destination weddings. It is where couples decide to hold their wedding in venues outside their hometown and do it in another location of their choice. If you and your partner would like to have a destination wedding, here are some of the things you should consider before you get on the phone and start telling your family and friends about your big day.
Location
Where to hold your wedding is your prerogative. There are so many countries where you can hold your wedding. If you would like to get married here in the Philippines, there are 80 provinces, and the cities of Metro Manila to choose from. It all depends on you and your partner. You may choose your wedding venue based on its beauty, its significance, and presence of local suppliers.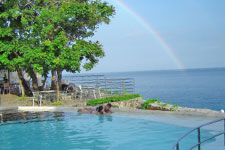 The theme and motif of your wedding also comes into play when choosing your wedding destination. Would you like to have a beach wedding? Then consider getting married in the beaches of Cebu, Aklan, Negros Oriental, Batangas, La Union, Siquijor, Palawan, Misamis Oriental, or Marinduque. Are you and your partner into the old Filipiniana church wedding? If so, try to look into the beautiful churches of Manila, Ilocos Norte, Bulacan, Bohol, Camarines Norte, Pampanga, or Batanes. Considering a garden wedding? Find the garden that suits your taste in Cavite, Laguna, Rizal, Cagayan de Oro, Pangasinan, or Negros Oriental.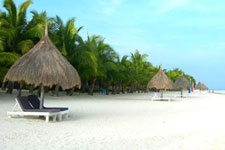 Legal Requirements
If you are a Filipino and you wish to get married here in the Philippines, you will not encounter much problem when filing your marriage license and certificate. (For more information, read The Law articles in our Reading Room). But if you intend to get married in another country, research beforehand the requirements for foreigners to avail of a marriage certificate. You may consult the Department of Foreign Affairs or the local embassy or consulate of the country where you plan to get married and ask them about the requirements and the process involved.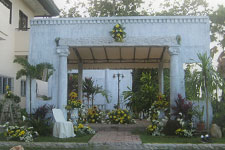 Date of Wedding
With the place and theme set in mind, it's now time for you and your partner to choose a date for your special day. Keep in mind of the weather condition in the place of your choice during your chosen date. Here in the Philippines, there are two pronounced season, dry and wet. Dry seasons are experienced between the months of November to May; June to October is the rainy season. Your knowledge on the weather condition of your destination will determine if your plans are feasible or not. It also allows you to make the necessary adjustments to your wedding plans. If you really want to have a garden wedding in June, then find an indoor garden or at least prepare a backup indoor venue in case it rains.
Weather is not the only factor in planning your wedding. Another thing to remember is the local festivities and events to be held in your destination before, during, or after your wedding. The existence of festivals during your wedding day can affect several elements in your big day. For one, your ceremony or reception venue might not be available. Also, accommodation is usually high because there are local and foreign visitors in the area and local wedding suppliers are often busy during this season. Therefore, it is advisable to have your wedding just before or after a big travel season.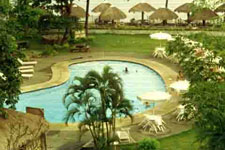 Guests
You have to identify exactly who you want to be with you in your wedding. Because of the logistics costs involved, destination weddings are relatively smaller in number. Since you chose to have a destination wedding, be prepared that some of your family members and friends may not be available to join or fit to travel. Remember to inform them at least six months before your wedding so that they can rearrange their schedule or save up for your big day.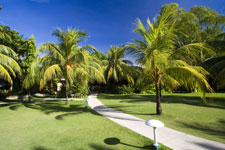 Budget If you have decided on your destination, wedding date, and number of guests, it's now time for you and your partner to sit down and talk about your budget. Among the things that you have to increase in your budget are your transportation and accommodation. To avoid additional stress brought by long hours of travel, it is advisable to check in to a local hotel a day before your wedding. Most hotels nowadays have special wedding packages that are easy on the pocket. Research about them and avail of their discounts.
As for your guests, decide on whether you will fully shoulder their transportation (and accommodations, if needed) expenses, share with them a certain percent, or let them take care of it themselves. However, if you and your partner are tight on the budget, explain to your family and friends what you can do for them to help them attend your wedding. One thing you can do is to search out an array of hotels and inns near to your venue with different price ranges or find reasonable travel fares.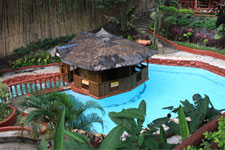 Travel and Transportation
Travelling is one of your major activities in planning and holding a destination wedding. Whether you are scouting for ceremony venue, reception venue, or local suppliers, you will need to travel. As such you have to find a way to efficiently plan your wedding. (Read more here: Travel Tips for Your Destination Wedding).
If you are getting married overseas, check with DFA for travel advisories especially regarding health concerns. If you will tie the knot here in the Philippines and you will be commuting, know the travel schedules for your destination. If possible, purchase tickets online or via phone to avoid long lines and delay. If you have your own means of transportation, make sure to tune in to the latest traffic reports and gas up for the long drive.
The most important thing in planning your wedding is to never forget why you and your partner would like to tie the knot. Do not get caught up in the details. Happy planning!
. . . . . . . . . . . . . . . . . . . . . . . . . . . . . . . . . . . . . . . . . . . . . . . . . . . . . . . . . . . . . . . . . . . . . . .
Kasal.com would like to thank sources:
TheKnot.com. Destination Wedding Basics: Know Before You .
Retrieved May 22, 2009 from
http://wedding.theknot.com/wedding-planning/destination-weddings/articles/destination-weddings-basics-to-know-before-you-go.aspx?MsdVisit=1
TheKnot.com. Destination Wedding Basics: 13 Must-Read Destination Wedding Tips.
Retrieved May 22, 2009 from
http://wedding.theknot.com/wedding-planning/destination-weddings/articles/13-must-read-destination-wedding-tips.aspx?MsdVisit=1
TheKnot.com. Destination Wedding Basics: Why Marry Away in a Destination Wedding?
Retrieved May 22, 2009 from
http://wedding.theknot.com/wedding-planning/destination-weddings/articles/why-have-a-destination-wedding.aspx
Comments
comments