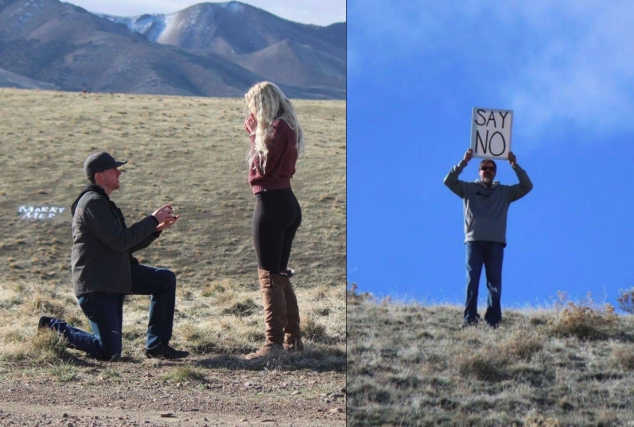 One father has taken dad jokes a notch higher.
After giving his future son-in-law her daughter's hand, Jake thought it was a great idea to pull a prank on the couple during the proposal.
On March 24, his future son-in-law Levi proposed to his daughter Allison. According to a report, Levi asked Allison to go on a quick trip with him and have breakfast with her family. Allison agreed, without knowing he was about to pop the question.
While they were on the truck, he asked her to marry him. Overwhelmed with joy, Allison began crying. Levi pulled over a spot that was close to where her family was hiding. Then, couple got off the truck and Levi got down on one knee.
But just before the romantic scene had ended, Jake appeared holding up a sign saying, "SAY NO."
It was a funny surprise for the couple. Good thing, they both knew it was only a joke. Jake liked Levi a lot and according to Allison, the two have already bonded over the years. She also shared that it was just her dad's personality.
My dad had other ideas.. 😂 pic.twitter.com/SDUMFjyqiq

— *AB*_13 (@allison_barron) March 25, 2018
Allison tweeted pictures from the proposal, including a photo of his dad with the sign. Her tweet quickly went viral. Her post has inspired several memes, too, and they are now circulating online.
— ILuvChenXen🏁 (@ILuvChenXen) March 27, 2018
— Hobabojin (@hope_brunn) March 29, 2018
What do you think of Jake's prank? Let us know by leaving a comment below!
Comments
comments