International and local wedding and portrait photographers shared their knowledge and technique on the new trends in their craft during the Wedding and Portrait Photographers of the Philippines (WPPP) Photo Congress 2009 held last May 4 – 7, 2009 at the SM Megatrade Hall 2, SM Megamall in Mandaluyong City and Plaza Ibarra in Quezon City.
The theme for this year's photo congress is "Where Innovation Meets Artistry". According to Mr. Danny Ignacio, WPPP Vice President – External and Chair of WPPP Photo Congress 2009, the event, now on its fifth year, is held in response to the need for advancement of photography and videography industry in the country. Furthermore, the photo congress aims to teach photographers on how to manage and expand their business amidst the economic crisis experienced worldwide.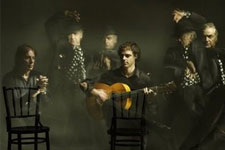 Three international photographers, Mike Larson (USA), Louis Pang (Malaysia), and Charlie Lim (Singapore) graced this year's wedding photo congress. Mr. Larson talked about inventive shooting techniques and how to merge work and play during photo shoots. Mr. Pang, on the other hand, gave new insights and concepts for wedding photography. Lastly, Mr. Lim shared, for the very first time, the secrets of his renowned technique, 'Oil Painting' Photography.
Local photographers, Mr. Dominic Velasco, Mr. Mariano Miranda, Mr. Jun Valbuena, and Mr, Raymund Marcelo also enlightened the participants on various topics like business management, fashion photography, and post-production editing. A special panel discussion with Philippine wedding photography legends and rising icons also commenced during the four-day congress. The 'young ones' included Mr. Lito Genilo, Mr. Danny Ignacio, Mr. Edwin Tuyay, Mr. Lito Sy, Mr. Benny Bondoc, and Mr. Robert Lester Aliscad. On the other end of the table are Mr. Randall Dagooc, Mr. Nelwin Uy, Mr. Elmer Castro, Mr. Andy Samaniego, Mr. Rommel Guerra and Mr. Chito Cleofas who make up the 'young guns'. The discussion was moderated by Mr. Bernard Mejias and Mr. Dino Lara.
The 5th Wedding and Portrait Photographers of the Philippines Photo Congress is sponsored by Kodak, Canon, Nikon, Sony, Epson, Hewlett-Packard (HP), JT Photo World, The Book (by Group U.S.A. and Company Inc.), Olympus, and the following media partners: Manila Bulletin, Wedding Essentials Magazine, Picture Perfect (Special Section of Manila Bulletin), Digital Photographer Philippines, Yes FM 101.1, UNTV 37, RHTV, 96.3 WRock, Web Dot Com, and i-mag Photography. The event is also supported by: Kasal.com, Power Imaging Centre Corp., Rubert James Exhibit Master, Ibarra's Catering Services, and Josiah's Catering, Inc.
Comments
comments