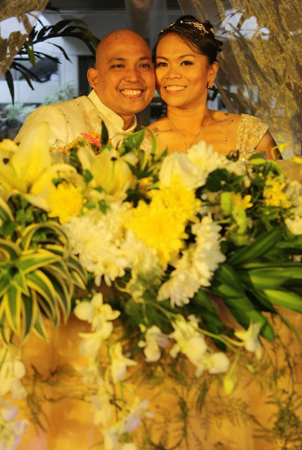 Stephen Redona Dagatan and Kristine Joy Biares Urbana
March 2011
Women dream of fairytale stories to come to life in theirs. Meeting a charming prince who, at first glance or smile, would sweep them off their feet is quite that fairytale story. Marrying that charming prince is of a whole different story but will nevertheless bring any woman to say, "Top that" to the rest of the world.
Not Love At First Sight
This is not that fairytale story. It was not love at first for newly wed couple Dyoy and Steve. But this was not the least bit disappointing as the story by itself is something worth sharing and remembering.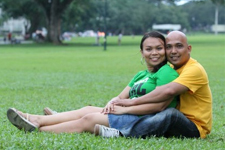 "We've known each other for ages," she starts their story. The couple knew each other since high school as they both served in the Parish of the Five Wounds. No conversations were initiated by either one until one eventful day for the Parish Youth Council. Wearing a knee-length sleeveless dress, Dyoy caught Steve's attention, prompting a joke which, little do they know, would serve as a springboard of the relationship.
"Hi Joy! Parang nagkamali tayo ng hugot ng damit sa cabinet ah!" (Hi Joy, looks like you pulled the wrong dress today!) was his first shot at easing up on her.
"Ngayon lang tayo nag-usap, ganyan pa bati mo sa'kin?!" (We only talked today and that's how you greet me?!) was her bold response.
Their banter grew into a fun friendship and then deepened to something else.
From 'Grabeh Na To' To 'Love Ko Na Ata'
Forwarding text messages to Dyoy was Steve's habit in college. This went on for a month without so much as a reply from her. Later, the "friendly" messages evolved into a more personal and sweet everyday reminders. Each text message made her feel important and cared. Time flew and the sweet became sweeter and the sweeter, sweetest. Because of this, Steve was nicknamed "Grabeh na to" (over the top) in her mobile phone's contact list.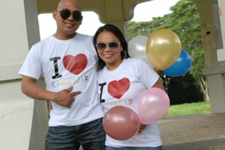 Then came August 13, 2001, when "Grabeh na to" became "Love ko na ata". Steve invited Dyoy to a Bridget Jones Diary movie date. The scene where Rene Zellweger (playing Bridget Jones) was being all sad for being fooled by a guy made Steve to finally confess, "Hindi ako ganyan. Hindi ako nananakit. Hindi kita sasaktan. I love you Dyoy." (I'm not like that guy. I won't hurt you. I love you Dyoy.) The courting stage was made official the day after that. More and more, each day, she found herself repeating the words 'Love ko na ata,' prompting her to change his name to that in her mobile phone.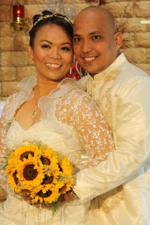 Four years after, the sweetest "yes" came for Steve. At their 4th anniversary dinner celebration, he surprised her with a silver ring hidden inside the freezer. In front of Dyoy's family, he proposed to her. "Of course baby.Yes..yes..I love you," was what Dyoy could only say.
Around-The-World-Themed Wedding
Themed weddings add thrill and fun to conventional wedding ceremonies. More than that, it personalizes the wedding and, in a way, tells the story of the couple to the guests.
This is what Dyoy and Steve hoped for in coming up with an around-the-world-themed wedding. They wanted people to never forget about theirs.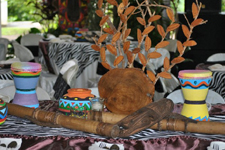 Getting the idea was easy for Dyoy. A month before Steve's proposal came, the couple was chosen as parish delegates to the 2005 World Youth Day in Cologne, Germany. They toured in Italy and Germany and had passed by Austria. The thrill in meeting different cultures and adventure in seeing these different places gave Steve and Dyoy an overwhelming experience which they brought back home.
The planning started with Dyoy unsure if the around-the-world wedding theme was possible at all. But she ended up deciding on it when Steve supported her all the way through.The couple worked with Lara Berris, owner of the Berris Cuisine, who expressed her excitement for Dyoy. This was also her first chance to set up a unique wedding reception theme for a client.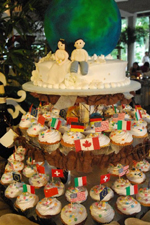 The wedding reception was held at the Seniors' Social Garden in U.P. Los Banos. The place was divided into different areas representative of the different countries and cultures the couple wanted to showcase. It had a Mediterranean-, Antarctic-, American-, Asian- and Philippine-inspired wedding set ups. The groom and bride's table, in turn, had the Grecian/Victorian setting.
The wedding cake could not be anything less than the theme. It was a three-tiered cake where the bottom and middle layers consist of cupcakes with flags representing different countries on them. A fondant globe and mini-Dyoy and Steve are propped on top of the cake.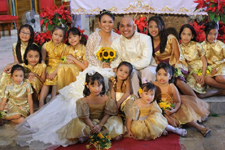 Needless to say, the couple's entourage dressed multicultural. The maids of honor wore Egyptian-styled dresses, while the bridesmaids were Greek godesses in style. The junior bridesmaids played Chinese, while the flower girls came as New Yorkers. All of the males in the entourage and most male guests wore Filipino-inspired attire. Dyoy's mother played the Roman goddess. Dyoy was a French Victorian bride and Steve was an all-Filipino groom.
All in all, the couple could not be any more happy and satisfied with the way things turned out at the wedding.
They wanted an around-the-world-themed wedding and got one. They wanted that chance to be able to say "I do" before God and their families, in their own unique style. Papabear Steve and Mamabear Dyoy, as they are such to each other, may not have had the sweetest fairytale story in love relationships history, but they just had the sweetest exchange of "I do's" with the whole world as a witness, pun intended.
Wedding Suppliers
Bridal Hair & Makeup Services
Nelia, Carla, Minda
Bridal Car, Transport
Derrick Sumugat
Godofredo Luciano
Bridal Gowns
Cathie Uy-Virtudes
Wedding Caterers
Berris Cuisine
(Lara Berris & CV Lazaro)
Wedding Ceremony
St. Therese of the Child Jesus Parish
Wedding Hosts
Paolo Avis
Dek Peralta
John Paul Aguinaldo
Wedding Favors, Souvenirs
Photobooth
Wedding Florists & Stylists
Andrei Medillo
Lara Berris
Wedding Invitations
Fidel Allan Bago
Wedding Photographers
Archie Paungan Photography
Wedding Planners
Ricardo Testa
Grace Bergantin-Bago
Tina Rabago-Luciano
Louie Roco
Kathleen Rose Urbana
Krystel Gay Urbana
Wedding Reception
Senior's Social Garden, UPLB
Wedding Wines, Beverages
Eventsshaker Mobile Bar
Visit Kasal.com Supplier Directory for the contact details of these suppliers.
Comments
comments