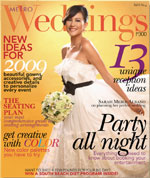 The country's premiere wedding magazine, Metro Weddings, just got even better this year building on all of your favorite elements and adding so much more. Headed by the new team of Editor-in-Chief Michelle Katigbak-Alejandro and Creative Director Trisha Chua-Juico under the guidance of out-going EIC Romina Urra-Gonzalez, Metro Weddings has branched out even further to bring new, exciting, beautiful, and unlimited choices to brides-to-be for their upcoming nuptials.
"This magazine has been indispensible to so many brides in planning their special day," Michelle comments "So we wanted to take the already amazing content and just make it even bigger and better. We wanted to provide more options, more ideas, more suggestions, just more!"
In line with the new vision for the magazine, the team of Metro Weddings which includes Art Director Noel Avandano, Managing Editor Stef Juan, Fashion Editor Ana Lloren, Details Editor Georgia Schulze-del Rosario, Editorial Assistant Ani Hila and Fashion Assistant Angela Alarcon, worked hard to revamp the look of the most comprehensive local wedding magazine including a new masthead and a brighter bolder look on the inside pages.
"This first issue is our first step in including all the changes and expansions we have planned for the magazine," Michelle says. "We are so excited to be able to explore new themes, new colors, new cuts and details for dresses. We are even looking forward to introducing new sections to the magazine. We are very dedicated to providing brides-to-be with all the choices out there."
So this month, look out for the new Metro Weddings featuring beautiful bride Sarah Meier-Albano on the bright eye-catching cover. Sarah, who is a ubiquitous face in the modeling scene, talks about what it's like planning her perfect wedding. Also in this issue see the most exciting new designs for beautiful wedding gowns as well as fabulous cakes, delightful floral arrangements, invitations, suits, accessories, and everything you need for your special day! You can also browse through comprehensive articles which help you navigate the tedious planning process including how to fix your seating arrangement, how to style your special event on a budget, how to book your wedding entertainment, and how to shed a few pounds before your special day. Indeed, you may even be the lucky reader to win a free South Beach diet program!
It's jam-packed full of information and engaging photos and you can find all this and much more in the newest issue of Metro Weddings. And continue to keep an eye out for the issues to come as the magazine continues to get better and better. Let Metro Weddings help you get the perfect wedding of your dreams!
Comments
comments