Who doesn't like a beautiful wedding? Whether you're planning one, or are already married, few can resist the allure of looking at photographs of lovely wedding details and reading the stories of how these lovely weddings were put together.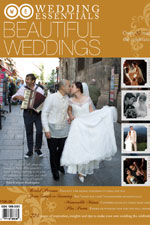 People read wedding magazines for inspiration, and Beautiful Weddings, from the same team that is responsible for elegant Wedding Essentials (WE), the bestselling wedding magazine, and Wedding Essentials: Destination Weddings presents the 2008 edition of Beautiful Weddings.
Beautiful Weddings features tips on styling the wedding entourage, menus to savor, real bride makeovers, and even advice for plus-size brides using real plus-size brides to be. But the heart of Beautiful Weddings are the wedding stories. Over 200 wonderful entries were submitted for consideration, and with difficulty, the WE team, headed by quintessential editor Marbee Shing-Go and talented art director Cynthia Bauzon-Arre, finally chose the 30 weddings which best embodied the spirit of Beautiful Weddings. With touching stories, inspiring ideas, and lovely details, each wedding story was unique in itself.
An additional surprise, a first in the history of Philippine publishing, were the 30 individual covers of Beautiful Weddings (in addition to the regular cover), each featuring one of the 30 weddings. Talk about a memento you can't get anywhere else! Couples featured in Beautiful Weddings 2008 each received their own copy of their customized covers; as a special service to each couple, their relatives and friends can order these covers through the couple themselves.
What better way to launch such a milestone in magazine history than with a glittering launch party, held last October 8, 2008? Held at the Manansala Lofts in Rockwell, Makati, and hosted by WE cover model Issa Litton, herself a new bride-to-be, the launch in a beautiful setting styled by consummate event stylist Badang Rueda was nonetheless cozy, with guests greeting one another. Everyone there had played a role in making the magazine the wonderful guide that it is.
And what's a party without good food and music? Josiah's and The Manila catering joined forces to give a culinary feast to all attendees, and music was provided by DJ Boyet Almazan. Prizes were limited edition Havaianas, an overnight stay at Discovery Country Suites, honeymoon spa treatment at Terra Wellness Spa with AdeB limo service, a Furnitalia lamp and the new iPod Nanos.
Beautiful Weddings 2008 hits newsstands and your favorite bookstores beginning October 12, 2008, and is packed with 224 pages for only P 200.
Comments
comments