The Filipino bride has evolved over the years to include not only time honored traditions but also out-of-the-box global ideas into her once-in-a-lifetime original and carefully planned wedding celebration. She is both chic and classic, both unique and beautiful, and most of all, both trendy and traditional. Indeed, the Filipina bride is a wonderful combination of the best of the past and the present.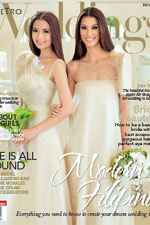 It's this combination of all of aspects of being a modern Filipina bride that Metro Weddings celebrates in its latest issue out this May. The stunning issue takes the best of the traditional Filipino wedding celebrations and combines them with beautiful modern elements for a look that is the best of both worlds and the perfect "marriage" of both the past and the present.
Brides planning their special day who want to celebrate their local cultural traditions with modern global flair should definitely not miss this special issue jam packed with ideas and inspirations for every kind of celebration. See stunning Philippine bridal couture from the best wedding designers in the industry using classic Philippine fabrics such as piña and lace coupled with stunning modern cuts and glamorous accessories. Plus, for those brides who want to prepare something special for their best girls, Metro Weddings has put together a stunning collection of bridesmaids gowns they are sure to not only shine in on the wedding day, but to also don again and again long after the celebration.
Filipina brides can also enjoy pages and pages of breathtaking table setups and cake ideas from the top suppliers in the industry. See traditional local materials like capiz, pearls, and beautiful local blooms shine in a series of table designs and styling for both classic celebrations and delightfully trendy affairs. And the inspiration is not for the bride alone, bridesmaids and best friends can take a page from gorgeous bridal shower ideas and setups for the perfect pre-wedding celebration that is sure to be remembered by everyone.
And that's not all, in addition to a visual feast of ideas and inspirations, the latest issue is also full of must-read articles and information every bride should have including articles on everything required to change name post ceremony, the ins and outs of the new trend of prenup wedding videography, and a step-by-step breakdown of the fine art of table styling by sought after stylists Zenas Pineda and Teddy Manuel.
There is so much to enjoy in the latest issue of Metro Weddings. Alongside, gorgeous dresses, beautiful table designs, and informative articles, brides-to-be can also enjoy romantic stories from celebrity brides Rachel Alejandro and Champagne Morales who share their wedding hopes and dream in an exclusive pre-wedding photo session with top wedding photographer Pat Dy. They can get great wedding inspiration from these blooming brides as well as from Metro Weddings' stunning cover girls Rissa Mananquil and Joey Mead. Indeed, for a Modern Filipiniana themed issue, who better to grace the cover than two of the country's most traditionally beautiful and modernly fabulous faces in the fashion industry? See Rissa and Joey model edgy modern Filipiniana gowns in a gorgeous fashion editorial and read how these two beautiful brides found true love and happily ever after.
With so much information, exclusive stories, and pages and pages of visual inspiration, this issue is one no bride should be without. For everyone planning their special event, be sure not to miss the celebration of Modern Filipiniana in the latest issue of Metro Weddings!
Comments
comments