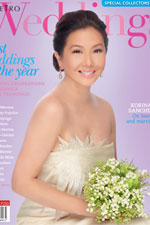 Every year Metro Weddings magazine, the premiere wedding magazine in the Philippines, compiles the most beautiful and stunning weddings to be a part of the prestigious Best Weddings of the Year special issue. This has come to be a much-awaited issue for every bride-to-be so they may peruse through gorgeous images, amazing setups, and inspired ideas to help them plan their own special day.
This year, Metro Weddings has put together some of the most incredible celebrations held, not just in the Philippines, but all over the world from Manila, Tagaytay, Boracay, Hawaii, and San Francisco. The issue also features every kind of couple be they traditional, funky, chic or sporty, and compiles heart-warming love stories and delightful images of timeless setups, perfect lighting ideas, and beautiful wedding gowns by some of the best designers in the country. Metro Weddings brings together all the best for every bride planning her own dream ceremony and makes a wonderful collector's item for everyone in love with everything weddings.
And to celebrate the best weddings issue, Metro Weddings features well-known broadcaster Korina Sanchez on the cover to share the details of her own celebration, easily one of the most anticipated weddings of the year. See this ubiquitous television icon in her first photo shoot in a gorgeous wedding gown, as made especially for her by designers Pepito Albert and Patrice Ramos-Diaz. Read about her relationship with dashing groom Mar Roxas and how their meaningful and loving relationship led them down the aisle.
Indeed, this special collectors issue of Metro Weddings should not be missed. Not only does it celebrate truly spectacular weddings but it also pays tribute to the most important thing about weddings, the love that is behind them. So whether you are planning your own wedding, a newly wed missing that pre-wedding anticipation, one of the amazing couples featured in this collection, fantastic suppliers who are constantly updating their wedding services, or even just a lover of romance, you will most definitely enjoy this special issue. Be prepared to fall in love all over again.
Comments
comments