Laces and Bustiers Fashion Show
Event Navigation
Creative Events Media Solutions
presents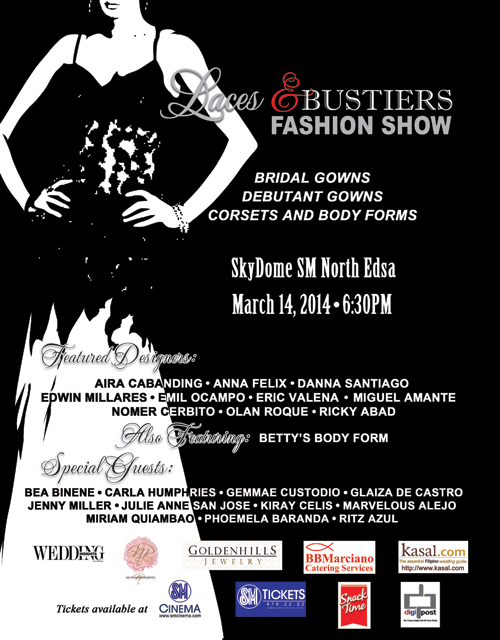 March 14, 2014
06:30 pm
Skydome SM North Edsa
Laces & Bustiers Fashion Show will feature debutant and bridal outfits inspired by, as the title suggests, the form-fitting "bustier" that enhances the woman's figure, and the lace that exudes feminine grace and charm. The show aims to highlight, more than anything, the talent and ingenuity of 10 of the country's topnotch Filipino couturiers in creating exceptional outfits for the contemporary debutants and brides – Aira Cabanding, Anna Felix, Danna Santiago, Edwin Millares, Emil Ocampo, Eric Valena, Miguel Amante, Nomer Cerbito, Olan Roque and Ricky Abad. See their exclusive 2014 collections inspired by the lace and bustier – from the ultra feminine and sweet outfits to the sophisticated and edgy garbs. Also to be showcased are body forms and bridal corsets designed by Betty Rulloda.
Celebrities to grace the ramp include Bea Binene, Carla Humphries, Gemmae Custodio, Glaiza de Castro, Jenny Miller, Julie Anne San Jose, Kiray Celis, Marvelous Alejo, Miriam Quiambao, Phoemela Baranda and Ritz Azul. Special guest performers are MP5ive and the Midori Boys.
Laces & Bustiers Fashion Show on March 14, 2014, at 6:30 PM at the Skydome SM North Edsa. This event is made possible by Wedding Insights Magazine, Goldenhills Jewelry, Nice Print Photography, BBMarciano Catering, and kasal.com.
Tickets are available at all SM Ticket Cinema outlets nationwide.
For Inquiries:
Creative Events Media Solutions
Contact Person: Mr. Manuel Chua
Telephone No: (632) 881-2514, (632) 998-4199, (632) 919-681-0600
Email: [email protected]
Comments
comments