Kasal.com's Kasalan nationwide wedding tourism program goes back to Cebu after the pandemic for the BIGGEST showcase of Visayas' and Cebu's reliable event suppliers this June 30-July 2, 2023 at the activity center of Ayala Center Cebu.
In partnership with Ayala Center Cebu, Kasal.com gathers the premier and the newest island wedding destinations in Mactan/Cebu, Panglao/Bohol, Dumaguete/Negros, Boracay and even guest resorts from Davao and Manila. To-be weds, families who are looking at affordable yet reliable event supplier options can also take a pick amongst Kasalan's partner wedding photo-video suppliers, caterers, stylists, customised wedding souvenirs, wedding planners and a whole lot more.
Aside from instagrammable wedding setups, guests can look forward to an exciting Brides at Triton fashion show from Jpark Island Resort & Waterpark and a grand wedding music concert from Cebu Metropolitan Symphony Orchestra. Amazing wedding raffle prizes from romantic honeymoon stays to complete prenup packages to custom bridal gown await lucky to-be wed guests!
So SAY I DO to the biggest #Kasalan2023 in Cebu Wedding Tourism Expo happening on June 30-July 2, 2023 at Ayala Center Cebu. Invite as many of your relatives, friends to come. It's going to be one beautiful weekend full of love and celebrations!
📩 Pre-register now via https://bit.ly/3NxfLha to automatically get 1 raffle coupon. Admission is FREE!
. . . . . . . . . . . . . . . . . . . . . . . . . . . . . . . . . . . . . . . . . . . . . .
Kasalang Filipino, a project of Kasal.com since 2003, is a nationwide wedding tourism fair road show aimed at tying key Philippine cities with one goal of promoting the local wedding and tourism industry nationally and globally. Since 2018, we've extended the market to include debutants, as we see more and more families investing on beautiful, meaningful celebration.
Each Expo highlights the different customs and traditions of the region, promotes its local wedding & event products and services, and gives attending couples/debutants the chance to know the latest wedding & event trends.
The 17th Run of #Kasalan2023 nationwide wedding tourism caravan includes Pampanga (Central Luzon), Cebu, Davao, Bacolod (Negros), and Cagayan de Oro.
. . . . . . . . . . . . . . . . . . . . . . . . . . . . . . . . . . . . . . . . . . . . . .
The 9th edition of #Kasalan2023 in Cebu is brought to you by Kasal.com, Ayala Center Cebu in partnership with Jpark Island Resort & Waterpark and Dusit Thani Lubi Plantation Resort. The event's technical and creative partners are VideoHub Cebu – Projector, LED Wall, Live Streaming Services, First of April and Seda Ayala Center Cebu.
The Cebu Bridal Fair is also made possible by Kandaya Resort, BELO Medical Group, Dr. S. Wong, Marco Polo Plaza Cebu, The Abaca Group, Love & Diamonds, and Diamond Suites & Residences.
Other Event Sponsors are: Akropora Resorts, Bluewater Maribago Beach Resort, Solea Mactan Cebu Resort, The Bellevue Resort, Savoy Hotel Boracay, The Noble Cebu Hotel, Anjo World Theme Park, Unique Weddings and Events by Carlo Abaquita, Charlton Trade Online, Blacksuit Studios, Cosmic Embers, Team Panda Films, Beckett's Events & Services, Grandeur by Brian Andrew Event Stylist, DesignByte Printing Solutions Company, and CCLEX.
The event's media partners are SKY, SunStar Cebu, BusinessMirror, CDN Digital, When In Manila and Bisaya Youtubers Club.
For more details, visit www.kasal.com or facebook.com/kasal.com 💜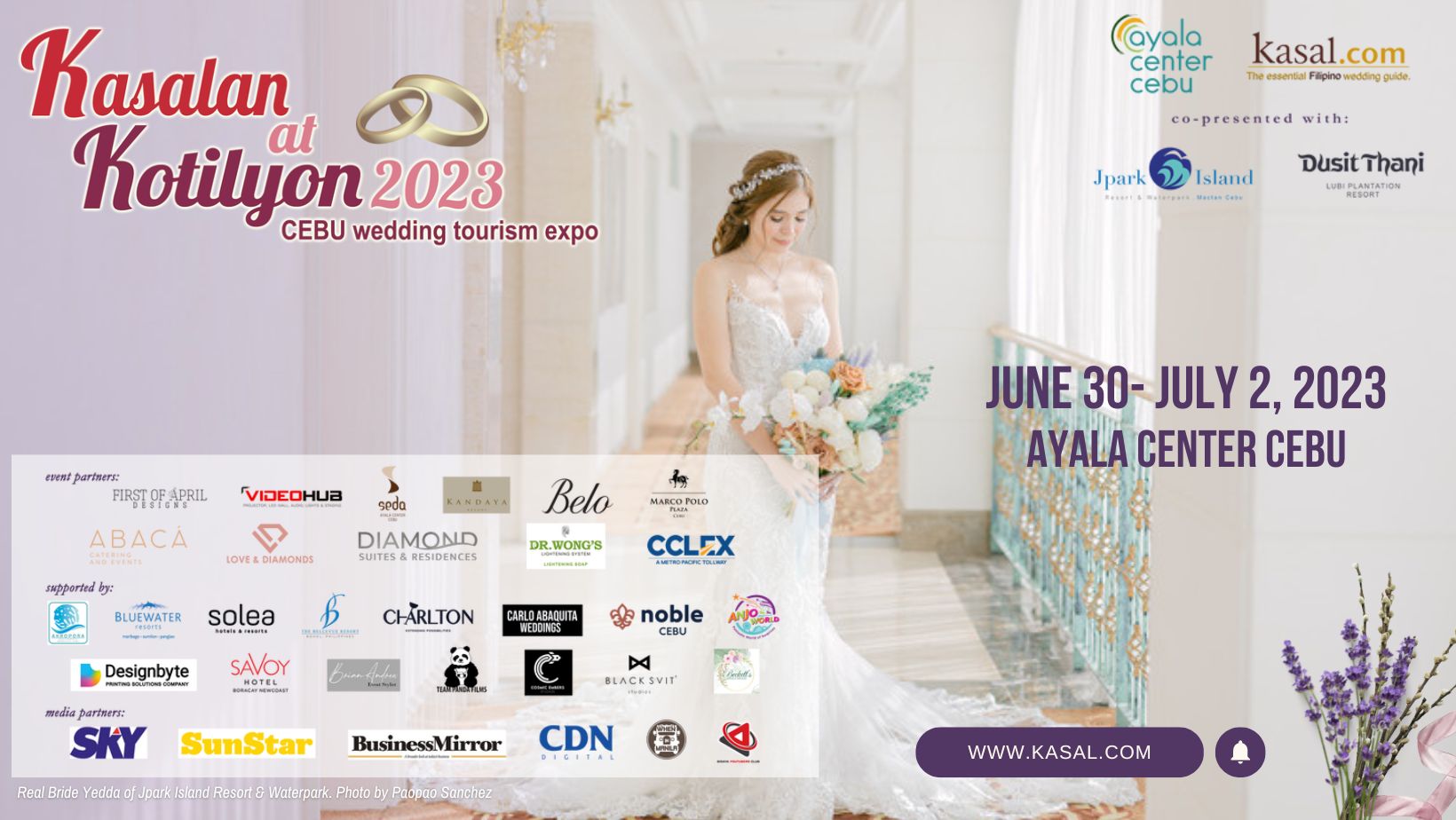 Comments
comments