Kasalang Filipino 2007, the premiere 10-city wedding fair road show program of Kasal.com and ABS-CBN, opened in the cool summer city of Tagaytay last February 23-25, 2007.
Did you know?
Nestled in the heartland of Tagaytay, Olivarez Plaza is a place where all your requirements and comfort are within reach – Olivarez Sports Complex, Tagaytay Country Hotel, Olivarez College, La Costa Spa, and Olivarez Supermarket
Dubbed My Wedding in Tagaytay, the grand program launch was held at the Olivarez Convention Center @ Olivarez Plaza, which is strategically located at the heart of the city.
The wedding fair is the biggest and grandest to be held in the Province of Cavite, with over 70 local wedding suppliers supporting.
Ms. Ephil Olivarez of Tagaytay Country Hotel, who co-organized the Tagaytay leg with Town's Delight, shared, "Our goal is to promote Tagaytay City and the Province of Cavite as the ultimate wedding destination. No other place can offer a more romantic ambiance – picturesque view of the Taal lake, cool weather all year round, lush flowers and foliage. Our close proximity to Metro Manila makes us also a viable and practical choice for an out-of-town wedding destination."
Fair visitors were welcomed with street dancing, courtesy of the students of Olivarez College.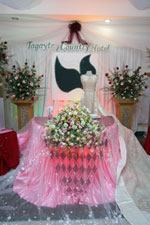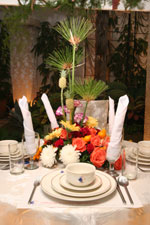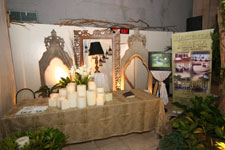 To-be weds, several of which came all the way from Batangas, Laguna, Rizal, Bulacan, and Manila, were treated to FREE calesa ride around the vicinity, FREE tour of the city's wedding venues, FREE pre-nuptial pictorial, and many more giveaways and raffle prizes.
Creatively designed booths, combined with musical performances from local talents, set the romantic ambiance of the event. Tagaytay Country Hotel and Town's Delight created beautiful mock wedding setups for to-be wed guests.
Hacienda Isabela, Riviera Golf and Country Club, and Nurture Spa won the event's awards for creative booth displays.

The event also presented Cavite's finest wedding fashion.
The first day's main attraction was the wedding fashion show from Amadeo's Pahimis festival. The use of the coffee beans from the local town of Amadeo as the gowns' indigenous accents not only promotes the ingenuity of the local talents but also its local products. Cavite's established fashion designer Ramon Santiago showcased the local wedding trend while Bibsy Mae del Rosario and Fe Seducon did a modern take on bridal gowns.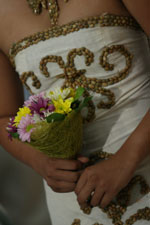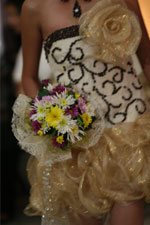 Cologne fountains, handmade earthenware from the local Corner Stone Pottery, and drawing/engraving on stones from Petroglyph Handicraft are just some of the new wedding ideas displayed during the 3-day event.
The second and third day welcomed guest speakers from Manila. Known event stylist Henry Pascual shared how to have a wedding in style while Metro Weddings' editor-in-chief Ms. Romina Urra-Gonzales lent wedding planning tips and advices to to-be weds. Renee Salud, one of the country's acclaimed fashion designers, also graced the event.
There were also programs to help to-be weds prepare for their new life together.
The chef of Saladmaster showed simple cooking techniques while a representative from Brahma Kumaris shared how to have a "Positive Living through Listening." Various home & living requirements like car, realty, home decors and even financial services were also presented.
Ms. Mathel Ong of Kasal.com, in closing, imparted, "We are very grateful with the support of Cavitenos to this event. This wedding fair truly embodied Kasal.com's goal of promoting the richness and diversity of our local wedding industry. We hope this event will inspire more provincial-based wedding suppliers to come out and show the unique product/service they have to offer."
Kasalang Filipino 2007: My Wedding in Tagaytay List of Exhibitors:
Beauty & Fitness
HBC
La Costa Spa
Olivarez Sports Center
Bridal Transport
Don Robert Bridal Car
Dream Line
Cakes
Pichacos Cake Creations
Designers & Couturiers
Bibsy Mae del Rosario
Dore
Fe Seducon Tailoring
God's Response Garment Authentic Fashion Accessories
Ramon Santiago
– The Maestro Nueno Haute Couture
Flowers
RCJC Flower Shop
Invitations
Handcrafted Expressions
QP Designs
Print Trade
Lights & Sounds
Audio Tech
Cavite Mobile Circuit Sounds & Works
Photo & Video
Ariel Javelosa Photography
Box Bots Advertising
Buencamino Photography
DentNet Digital Photography
Eros Photography
Louie Allan Photography
Louie Reformado Photography
Sweet Smile Photography
Reception Caterers
Hap – Chan
Josiah Catering
Juan Carlo Catering
Mark's Catering
Town's Delight The Caterer
Souvenirs/Novelty Items
Acclaim Butterflies
Corner Stone Pottery
FBG Flower & Scents
Petroglyph Handicraft
VTS Handicraft
Wedding Planners
Gembso Events
Wedding Venues
Canyon Woods
Discovery
Gourmet Farm
Hacienda Isabela
Hacienda Pavana
Mount Sea Resort
Nurture Spa
Olivarez Convention Center
Puerto Azul
Riviera Golf & Country Club
Sonya's Garden
Taal Vista
Tagaytay Country Hotel
Tagaytay Highlands
The Moon Garden
Villa Baretto
Villa Luz Resort
Home & Living
Avida Land
Abundant Handicraft
Bank of the Philippine Islands
Brahma Kumaris
Cafe Amadeo
Casino Filipino
Carlo'ss Pizza
Cavite Cable
Citibank
Citifinancial Loan
Dasen (Refrigeration Equipment)
Ford Cavite
G – Point
Greenwich Pizza
Likhang Caviteno
Mile – Hi
Mocha Blends
Olivarez Supermarket
Pancake House
Pilhino
Venn'z Footwear
Please visit https://kasal.com for the exhibitors' complete contact information.
Kasalang Filipino is a nationwide wedding fair road show aimed at tying 10 Philippine cities with one goal of promoting the local wedding industry. The 2007 run was launched at the Tagaytay's Olivarez Convention Center last Feb. 23-25, and will continue to Legazpi's Pepperland Hotel and Metro Gaisano on April 27-28, Dumaguete's Bethel Guest House on May 25-26, Iloilo's Amigo Terrace Hotel on June 15-17, Tarlac's Ninoy Aquino Center on June 22-23, Cagayan de Oro's Limketkai Mall on July 12-15, Davao's NCCC Mall on Sept. 14-16, San Pablo's One-Stop Shop on Sept. 28-29, Makati's The Enterprise Center on Oct. 11-12, and Cebu's Ayala Center on Oct. 19-21.
Kasalang Filipino 2007 is co-presented by Kasal.com and ABS-CBN; and is made possible by Philippine Airlines, Fuji-YKL, Chinabank, Standard Appliances, Red Hat, MozCom, QP Designs, Ariel Javelosa Photo & Video, Bitstop Network Services, and the following media partners: ABS-CBN Regional Network Group, Lifestyle Network, DWRR, My Only Radio, Metro Weddings magazine, Philippine News, Manila Bulletin's About Weddings, Business World, Business World High Life, The Manila Times, Flavors magazine, SunStar, The Beat magazine, OFW Ngayon, Media G8way, loCalDirect, Philstar.com, Yehey.com, HerWord.com, PinoyExchange.com, DigitalFilipino.com, Tsinoy.com, and Trabaho.com.
Please visit https://kasal.com for more details.
Photo Album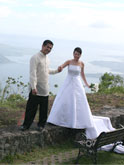 Comments
comments