by Gavin Sanson Bagares
Cebu Daily News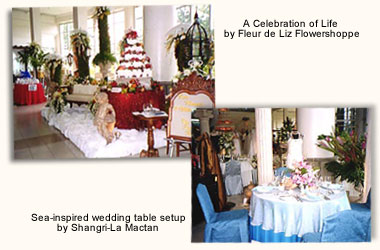 Kasalang Filipino, the national bridal fair road show, had a successful run in Cebu on the second leg of its tour last August 1 to 3. Venue of the show was Ayala Center Cebu.
Tagged as "the first ever national bridal fair road show featuring the best of Philippine wedding essentials and services," Kasalang Filipino drew support from wedding coordinators, fashion designers, florists, cake bakers, goldsmiths and the like
The three day event at Ayala saw the unfolding of two major fashion shows by Cebu's more visible/involved designers like Jed Sevilla, Albert Arriba, Protacio, Harley Ruedas, Jude Elardo, among others. A mock wedding was also performed to set mood and tone on the first day.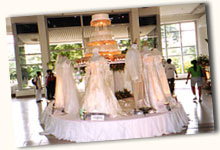 The best of Cebu fashion designers
Sidelight of shows was the reportedly controversial parade of five wedding gowns by couturier Jed Sevilla; as opposed to one gown each by the other designers. Allegedly, only one gown was permitted per designer. Sevilla; however, was swamped by floral bouquets by friends and clients at the curtain call.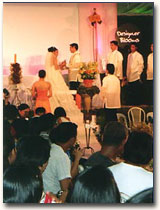 Event attendees 'witness'
the mock wedding
by Designer Blooms
Of course, the shows were just icing to the real thing.Commerce.A heady number of stalls were set up at Ayala's Activity Center to entice thoseplanning their own (or other people's weddings) with a plethora of goods and services that promise to make the preparations simpler, besides making the event elegant and memorable.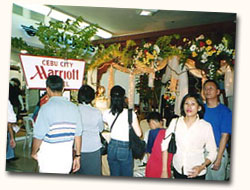 Event attendees admire the setup of
Cebu City Marriott Hotel
Kasalang Filipino was the second biggestbridal fair to hit the metropolis in the last 2 months since the"Marry Month" of June. The Kasalang Filipino road show, in fact, ends inNovember yet (after having had the run of 10 key Philippine cities), at the San Diego Gardens of Intramuros, Manila.
With Kasalang Filipino, one realizes that weddings have become Big Business, and that several — albeit small – industries, have been spinned-off them in the last few years.
CEBU SPONSORS

CEO


Marriott Hotel

——————————————————




CEBU EXHIBITORS

Beauty & Grooming
Annie's Beauty World
Xsalon

Bridal Registries (Category not included in the Wedding Resources yet)
Metro Ayala

Bridal Transport
Honda Motors

Cakes
Chedz Bakeshop
Marissa Unchuan
Red Ribbon

Designers & Couturiers
Albert Ariba
CEO
Fashion Avenue
Harly Ruedas
Jed Sevilla
Jojo Matibag
Joy Bernaldez
Leonardo Ygloria
Marichu Tan
Mario Colmenares
Philip Rodriguez
Ray Kwan
Romel Pareja
Terrising
Wendel Quisido

Florists
Cascades
Designer Bloom
Flower Land
Fluer de liz

Government Agencies

 

(Category not included in the Wedding Resources yet)


Civil Registry


National Statistics Office (NSO)

Invitations




Go Large

Jewelry Shops
M. Lhuillier Jeweler
WESMA Jewelry & Watches

Photo & Video
Carlito So Photography
Cergen Art Studio
On Location

Reception – Caterers
Laguna Garden Café

Reception – Hotels
Marriott Hotel
Montebello Villa Hotel
Shangri-La's Mactan Island Resort

Textile (Category not included in the Wedding Resources yet)
Chester Enterprises

Tosses & Releases
Ballooney Shoppe

Wedding Planners
Koncepts & More
Romel Event Coordinator




METRO MANILA EXHIBITORS

Bank (Category not included in the Wedding Resources yet)
Citibank

Invitations
QP Designs

Photo & Video
Ariel Javelosa Photography
Imagine Nation Photography
Voyeur Visage Studio, Inc.


 

 

Kasalang Filipino is made possible by the following: Philippine Daily Inquirer, Kasal.com, Philippine Airlines, Dove, The Leather Collection, MosCom, VMV HypoAllergenics, Lux Super Rich Shampoo, Nivea Body Lotion, Hypertech Corporation, Glisaz Audio-Video Corporation, LakbayTV, LifeStyle Network, ABS-CBN Regional Network Group, CityLite 88.3, Wave 89.1, Magic 89.9, Killer Bee, 99.5RT, and 103.5K-Lite.
To see the exhibitor's complete contact information, please go to the Wedding Resources Section of Kasal.com.
Once you are in the Wedding Resources, select the Category of the Supplier and search. Should you encounter any problem, kindly e-mail us at [email protected]. Thank you.
Comments
comments