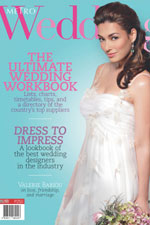 2009 started with a bang for the brand new packed-with-information Metro Weddings and it just keeps getting better and better. This April, Metro Weddings brings you the ultimate Bridal Workbook designed to help you effortlessly plan your perfect wedding!
The special issue workbook contains carefully drafted sections dedicated to each special aspect of your dream day, from all you need to know about choosing your ceremony venue to booking the best photographer to capture all those unforgettable moments. It also contains indispensible details on how to select the perfect dress as well as a special lookbook of the top designers in the country featuring some of their favorite dresses.
In addition, the Metro Weddings Bridal Workbook also contains all your registry needs as well as tips on how to quickly and painlessly navigate the tricky world of marriage contracts, church requirements, and do's and don'ts before you walk down the aisle, all beautifully packaged in easy to reference sections, hundreds of useful tips, checklists and gorgeous photos that are sure to take your breath away.
"We know how complex and lengthy the wedding planning process can be," Editor-in-Chief Michelle Katigbak-Alejandro says. "We wanted to help by breaking the process down into simple chronological steps while providing brides-to-be a wide variety or references and suggestions that are perfect for every type of event. We want this workbook to be a fun companion that brides can take through the planning process."
Indeed, you can find everything you need to know about the wedding planning including contact details of experts and the best suppliers in the industry. What's more, the workbook is full of hundreds of gorgeous photos, taken by top wedding photographers in the industry, that are sure to inspire you every step of the way. It also features beautiful bride-to-be Valerie Bariou who shares her thoughts on love, friendship, marriage, and the fun of planning your own wonderful event.
So, if you are planning your dream day, or even just imagining your perfect wedding, the Metro Weddings Bridal Workbook is a beautiful collector's reference that you shouldn't be without.
Comments
comments