Unique wedding ideas and huge discounts await couples and guests of Kasalang Filipino sa Manila, which is set to happen from October 9 to 11, 2015 at the Fairview Terraces Mall in Quezon City.
Known as the most stylish wedding fair to take place north of Manila, the expo is the eight leg of Kasalang Filipino 2015. Other participating cities this year include Angeles, Davao, Imus, Subic (Olongapo), Cagayan de Oro, Bacolod, Lucena, and Dumaguete.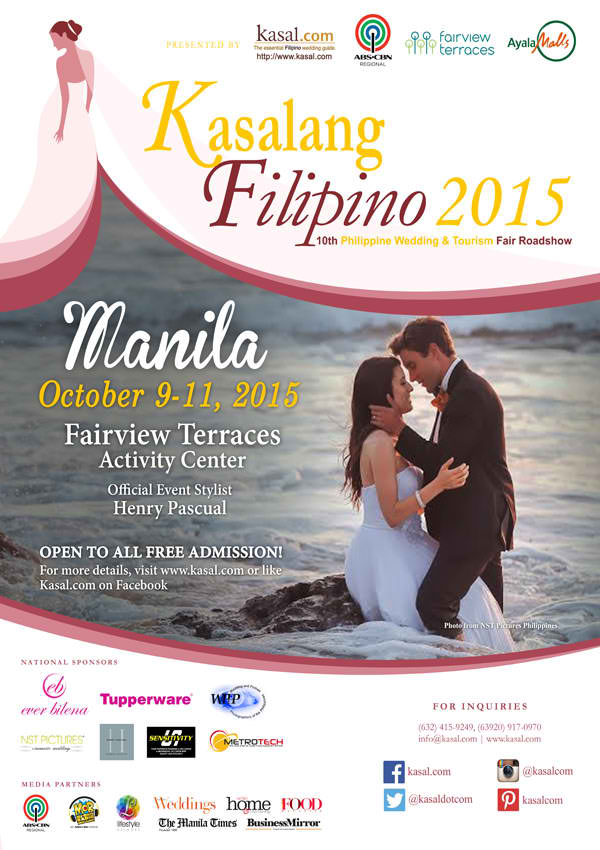 Metro Manila's talented wedding suppliers are expected to show off their creativity and skills through their booths. Their works will also be showcased, including cake designs, wedding dresses, table setups, floral arrangements, invitations, photographs and videos, and wedding favors. Makeup artists, venues, caterers, and other suppliers will also participate in the said event.
For three days, participating wedding suppliers will entertain questions from interested couples and guests. They will also offer discounts and freebies to anyone making a booking during the event.
Musical performances will also grace the three-day affair. There will be fun and exciting, competitions too. There will be another run of the Tupperware Weddings: A Wedding Table Presentation Competition and Ever Bilena's Gandang Pinay Bride Bridal Makeup Competition. Couples and guests can also join raffles where they can win special prizes.
The event is open to everybody. It is free admission. For pre-registration, visit www.kasalangfilipino.com.
The event will have national, quad media promotion through its national media partners: ABS-CBN Regional, Lifestyle Network, MOR My Only Radio for Life, Metro Weddings magazine, Metro Home and Entertaining magazine, Food magazine, The Manila Times, Business Mirror, and will be promoted globally through www.Kasal.com.
For more information about Kasalang Filipino national wedding and tourism fair roadshow, please call (02) 414-3596, 415-9249, email [email protected] or visit www.kasal.com. Like Kasal.com on Facebook – www.facebook.com/kasal.com.
Comments
comments