Michelle de Guzman | August 2008
A blessed life in glamorous Cebu, a mother as her own personal fashion icon, and a degree from Fashion Institute of Design and Merchandising in the US—all these has been translated into Monique Lhuillier's work in the bridal fashion industry.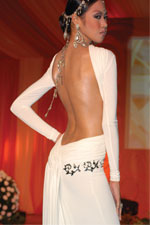 Yes, Monique Lhuillier, the one who dressed up Natalie Imbruglia, Britney Spears, Kevin Costner's wife, and even Bride Barbie; the Cebuana who designs very feminine clothes with rich fabrics and is making a name for her stylish and traditionally romantic bridal wear.
Her mother, Amparito Llamas, was a former model who still exudes a glamorous sense of style. She and Monique's father, diplomat and jeweler Michel (of the M. Lhuillier empire), introduced her to dreamy parties thrown in their luxurious home, with guests "dressed to kill."
Is it any wonder really that Monique would end up as a fashion designer?
In Cebu, with its big wedding expos and bridal fairs, there are a lot of fashion designers.
Some, like Fashion Council of Cebu President Philip Rodriguez, stand out. Words to describe him would be Cebu's Valentino—capable of producing dresses that are classic, feminine and beautiful. Be it in silk chiffon or organdy, Rodriguez has had a trademark of strong imagery.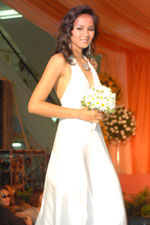 In last year's "Sposabella" showcase of both Manila and Cebu fashion collections at the Waterfront Hotel in the City, Cebu wowed the crowd with Arcy Gayatin's elegant designs, with Jun Escario's dramatic zing (as clearly shown in his adept fusion of an Indian sari and a Japanese kimono fabric).
On the other hand, OJ Hofer's definite sense of style could be seen in his clever use of jersey, tulle and velvet.
Albert Arriba and Minnie Yuvienco showed evening wear in impressive colors like aqua, fabrics like yellow taffeta, balloon skirts and layered pink bodices.
Sure, all these have been influenced by each other's background, inspirations, and personal sense of style.
But it is also worthy to note how Cebu has influenced their styles, with the island being the second top tourist destination in the country (second only to Boracay), numerous international hotel chains, big thrust towards tourism, celebrities and concerts, vibrant culture and nightlife, high-profile local personalities, ad infinitum.
Rightfully called "The Queen City of the South", the City's vibrancy and richness spells couture.
And as Cebu fashion designer Dexter Alazas observed of the City's modern brides, "Modern day brides have come to realize that a wedding gown is the closest couture they could possibly get on their wardrobe. The multiple fittings, layers and layers of fabrics, the intricate embroidery, fine crystals and precious stones on top of each other, the gem encrusted headpiece and dramatic veils, it's definitely couture."
. . . . . . . . . . . .. . . . . . . . . . . . . . . . . . . . . . . . . . . . . . . . . . . . . . . . . . . . . . . . . . . . . . . . . . . .
Kasal.com thanks the following sources for this article:
1 Alazas, Dexter. "The perfect wedding dress." June 20, 2008. The Freeman, p22.
Cu-Unjieng, Philip (Ed.). "Go Negosyo: 50 Joey Concepciuon's Inspiring Entrepreneurial Stories." Manila: ABS-CBN Publishing, 2006.
San Juan, Thelma. "Cebu vs Manila designers in fashion fest." Retrieved June 3, 2008 from http://showbizandstyle.inquirer.net/lifestyle/lifestyle/view_article.php?article_id=87108
Comments
comments