The wedding day is a time of great rejoicing. Its celebration is not an individual concern but affects the whole barrio. Even before the banns are proclaimed in the parish church, the highlights of conversation are focused on it. Excitement and anticipation pervade the atmosphere.
The kinsmen of the groom pool all their resources to prepare for the momentous event – to provide the bridal gown, decorate the church and the bride's house, attend to the many guests that come, make ready for the marriage feast, and arrange all other pertinent details.
The last days that a maiden spends with her family are trying. Her parents, clinging to the last fragile hope of keeping their girl, try to discourage her by stressing the hardships of the married state, the defects of her husband-to-be, the unavoidable in-law problems, etc. Some fathers put on an air of indifference or pretend to be sick. Mothers become too strict and fault-finding, or hysterically give away to tears. The bride shuns company and attendance at public affairs to avoid comments and staring glances.
The wedding is set on a day when the moon is waxing. Barrio elders say that marriages held when the moon is waning meet with no luck and prosperity, a belief that seems to be widespread among other Visayan peoples.
The Eve of the Wedding (likod-likod)
Special festivities are held in connection with the eve of the wedding (likod-likod) with the main purpose of stimulating friendship and good will between the families of the two contracting parties. Another objective is to commemorate the last day before the couple share a wedded life together. The parents of both bride and groom address each other in the familiar terms, "Pare" (for the fathers) and "Mare" (for the mothers). Aside from bearing all expenses for the feast, the boy's kinsmen take care of entertaining and serving the guests, especially the bride's circle of relatives and close friends. There is a plentiful supply of food and drinks, music and merry-making. Great precaution is taken that nothing unpleasant happens, that all visitors are pleased and well fed, and that the provisions are not exhausted. An unruffled, bounteous feast presages luck and happiness for the nuptial day.
A woman expert is oftentimes asked to take charge of dishing out the rice and viands on big plates (bandejados). She utters certain invocations as she scoops out the rice with a coconut ladle (luwag), to make sure that the food will be sufficient for the feast. A shortage would put the groom's family to shame and predict failure for the marriage celebrations.
The betrothed pair takes part in the festivities, which may last till the late hours of the night, but the parents see to it that they retire early.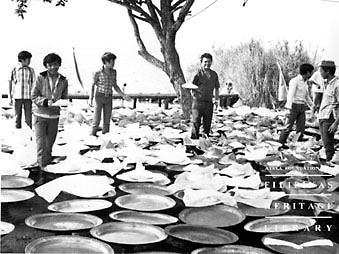 . . . . . . . . . . . . . . . . . . . . . . . . . . . . . . . . . . . . . . . . . . . . . . . . . . . . . . . . . . . . . . . . . . . . . . .
Source:
Quisumbing, Lourdes R. (1965) Marriage Customs in Rural Cebu. Cebu City: University of San Carlos.
Comments
comments