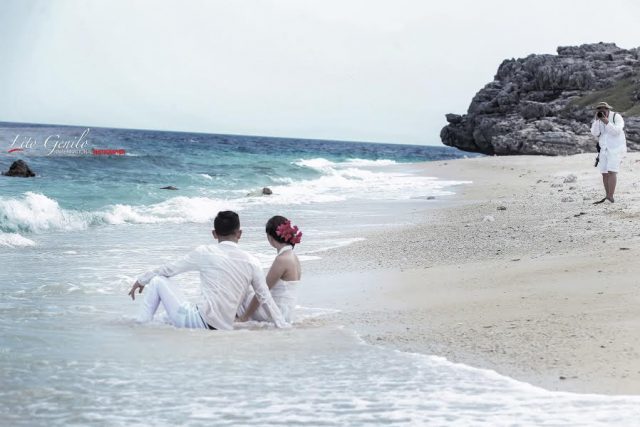 Mr. Lito Genilo, owner of Smart Shot Studio, has been in the industry for years now. Throughout his career as a professional photographer, he has already been behind countless successful productions and coverages. He has also won several awards, both locally and internationally. But what makes him even more impressive is the fact that despite all his achievements, he remains humble. His passion and dedication have never wavered, either. In fact, he strives to be even better at what he does each day. He never ceases to learn new things, which he could use in every project.
In a recent prenup shoot session with couple Mark and Mau Montemayor in Fortune Island, Mr. Genilo could be seen focused and burning with passion. He was so eager to come up with amazing shots that would perfectly tell the love story of the lovers and at the same time give justice to the lovely venue.
Relaxed
One of the most admirable things about Mr. Lito Genilo is how relaxed he remains even when in action. Unlike some who panic when tasked to take certain shots, he remains calm and focused on what has to be achieved. This allows him to maximize every move and at the same time, not miss any important detail that has to be captured using his camera. It also affects the overall production. With his calmness, people are also more focused on what they do. They don't panic and they get things done as smoothly as possible.
Unobtrusive
We have already seen photographers whose presence alone could already disrupt whatever the event is, especially when they stand on spots where they could easily draw everyone's attention. What's really good with Mr. Lito Genilo is that he's unobtrusive. He could ensure that the work is being taken care of without drawing unsolicited attention, particularly during solemn events like weddings. He's just there with his camera, faithfully following the sequence of events and taking the necessary shots the best way possible.
Always alert
Every moment matters in a wedding. It is for that reason that any photographer who's covering a wedding should stay alert throughout the event. This is for them not to miss any important part of the ceremony or reception. In fact, even what happens behind the scene counts. But with a photographer like Mr. Lito Genilo, you won't have to worry about this thing anymore. He knows his job so well and he never misses any important part of the event he is covering. Same thing goes when he's having prenup shoot sessions. Those exchanges of stares and smiles between couples that often seem so fleeting and easy to miss? He can capture them all.
To learn more about Mr. Lito Genilo and his team's amazing works, kindly visit the Kasal.com page of Smart Shot Studio. You may also check out Mr. Lito Genilo's and Smart Shot Studios' Facebook pages.
Comments
comments