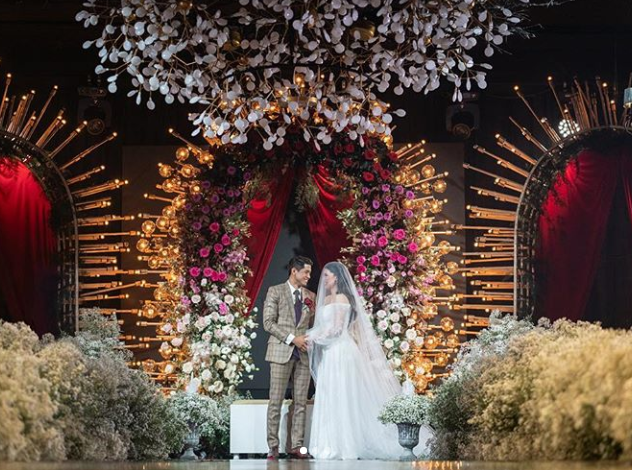 Last week, our social media feeds were flooded by posts about the wedding of Aljur Abrenica and Kylie Padilla at Villa Milagros Mansion and Gardens in Rodriguez, Rizal. Everyone was in awe upon seeing their wedding details. Netizens were also very glad to see the celebrity couple finally tying the knot. It was a well-deserved "happily ever after" for them, of course, given everything they had to go through to stay together.
And since we at Kasal.com have always been fans of great love stories and beautiful weddings, let us share with you the five (5) things we loved about this occasion. Here they are:
It was packed with amazing details
It was truly one of the most beautiful weddings we have ever seen. The way its elements were put together was commendable, especially the clever use of rich hues of red combined with black and white. As a result, the venue was filled with dark and dramatic vibe, something Kylie really wanted according to event stylist Gideon Hermosa. Lighting was also impressive. Guess what? They used hundreds of candles and light bulbs to make the entire setup even more gorgeous! Even their wedding cake and outfits were jaw-dropping!
It was star-studded
The said wedding only had less than 70 guests, meaning it was meant only for the couple's closest friends and family members. Of course, included in the limited guest list were some of our favorite celebrities, like Gabbi Garcia, Khalil Ramos, Maritoni Fernandez, and Rita Daniela. Big stars from both sides' families, especially Kylie's, were also there.
It reminded us about the power of love
Their love story began in 2011 but got separated in 2014. Many fans were saddened by this news, since they all thought the two celebrities were perfect for each other. Good thing, they got back together in 2016. They got engaged in January 2017. In the same month, we also found out about Kylie's pregnancy. She gave birth to Baby Alas in August 2017. Indeed, it was a roller coaster ride. But their story reminded us about the power of love.
View this post on Instagram
It was a celebration of family
Another thing that made this wedding so special, we think, is the fact that it was a celebration of family. It was an occasion when people simply set their differences aside and chose to be together for a loved one's special day. It was not just a wedding after all. It was also a much awaited reunion!
It showed how bad-ass women, especially moms, could be
Kylie was a wonderful bride. Everybody just loved her wedding look, as well as all the outfits she wore throughout her special day. But of course, apart from her beauty, her strength was also something to be admired. In fact, she was so bad-ass that she breastfed Baby Alas in between the ceremony and reception.
How about you? What do you love the most about this celebrity wedding? Let us know by leaving a comment below.
Comments
comments