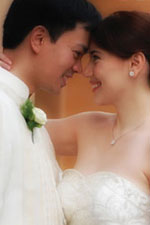 Every bride looks forward to spend the rest of her life with that special someone. Someone who is perhaps the dearest person in her life, her only beloved, her soulmate, her better half. Before forever begins, months of wedding preparations are done to achieve that most awaited day to saying "I Do".
But where do you begin in planning for your wedding day? From picking a date, to imagining how one venue will create a memorable day, to wearing a gown fit for a princess, to finding shoes that fit, to having a feast suited for a king, to getting the word out that all these are happening, wedding preparations surely are no walk in the park. Now on its 7th run, VRC Creative Events presents Before I Do Bridal Fair that will feature more than seventy wedding suppliers who are more than willing to extend their services to you in making your special day stress-free and a memorable one.
On May 15 and 16, 2010, the Megatrade Hall 1 of SM Megamall in Mandaluyong City will be filled with seventy-seven wedding suppliers, as well as new exhibitors who are just waiting to be discovered by soon-to-wed couples to help out all brides and grooms out there to make that dream wedding come true. Wedding entertainers will be showing off their talents as you enter the hall. You will then be transported to a very romantic hall dressed up by Angels of Hearts, while Juan Carlo the Caterer will tickle you and your significant other's senses as they allow guests to have a taste of their sumptuous cuisine. To lessen the stress and hassle of your wedding preparations, The Wedding Planner Magazine will serve as guide on how to prepare for your special day.
With a lot of options to choose from, you will be treated to a lot surprises and amazing finds in this event, including discounts and special rates for on the spot bookings. These on the spot bookings are also your key to getting a chance to win a 3-days and 2-nights stay at the Pearl Farm Beach Resort in Davao if luckily picked during the raffle draw at the end of the fair, along with the awarding of the couple who gets to spend 3-days and 2-nights at 7 Stones Boracay Suites for winning the Best Pre-nup Photo contest. If you are still trying to get ideas and have not made a final decision yet on what you want for your special day, you still have a chance to win in the hourly onsite raffle, taking home gifts courtesy of the exhibitors.
This event is also made possible with the following partners: MyBridalFair.com, Kasal.com, Philstar.com, HerWord.com, Megatrade Hall, SM Megamall, MSD Godspeed, Business Mirror, Business World, 99.5RT, Wave 89.1, Magic 89.9, Jam 88.3, and 103.5 Max FM.
Soon-to-wed couples, debutants and guests can get in for free when they pre-register online at www.mybridalfair.com or through SMS by texting BID07 <BRIDE'S NAME/GROOM'S NAME> <WEDDING DATE> <EMAIL ADDRESS> to +0918 996-76-76. Couples who also bring a copy of the latest issue of The Wedding Planner magazine gets to enter for free.
Comments
comments