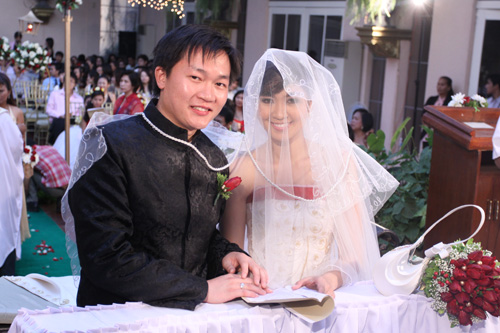 West Ni and Coleen Roxas
By Danielle Sebastian | 19 August 2011
Weddings are celebrations made up of an array of traditions, beliefs and values. Coming from a purely Chinese family, West Ni and his Filipina wife decided to celebrate their wedding twice to honor both Chinese and Filipino practices. The couple shares with Kasal.com how both cultures made their wedding more colorful and memorable.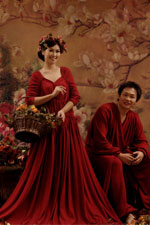 On being a "Chi-noy" Couple
Some people would question the compatibility of two persons because of the difference in their culture and nationality. But just as West and Coleen shares, being Chinese and Filipina was never an issue from the start.
"In our family, we respect each other's nationality and culture."
After a year of marriage, the couple still seem to be as in love with each other as the day they got married. Asked what they loved the most about each other, West answered how Coleen was especially made by God for him saying, "she has everything I like… The most important thing is that I can always feel her love even when she is mad at me."
On the other hand, Coleen especially loves how mature and gentlemanly West is. "He treats me like a princess," she said.
A Traditional Wedding in China
In order to cater for all the family and friends of the couple, West and Coleen prepared two weddings – a traditional wedding in China and a church wedding in the Philippines.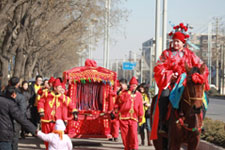 In choosing their wedding date for their traditional Chinese wedding, they sought the help of feng shui. Luckily, the date fell on February 2010 where most families reunite to celebrate Chinese New Year. Their wedding in China was arranged by West's parents and had almost a thousand guests.
Based on weddings in ancient times, Coleen wore a Chinese empress-like gown with a phoenix design whereas West wore an emperor-like clothing with a dragon design. Guests were especially not allowed to wear black as the color symbolized bad luck.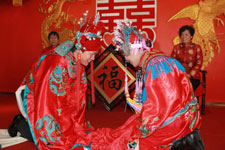 Starting early in the morning, Coleen experienced some of the traditional Chinese rituals. Two boys had to jump on her bed in order for her to conceive a baby boy in the future. Her face was covered with a red cloth that West had to move using a wooden stick. She was also served raw dumplings that symbolized fertility. After eating the dumpling, she had to be carrried by two younger boys to her carriage as touching the floor would bring bad luck. With her on the carriage and West on a horse in front of her, the parade went on for two and a half hours with firecrackers lit at every intersection they passed. As they reached the hotel, West carried her to the reception hall where they bowed three times to honor the spirits, his parents, and the ancestors.
Surely, the traditional Chinese wedding would always be memorable to Coleen and West.
A Filipino-Chinese Wedding in the Philippines
For their wedding here in the Philippines last April 11, 2010, Coleen and West incorporated both the Filipino and Chinese culture.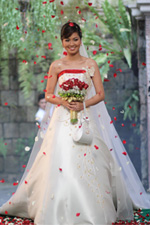 Traditionally Filipino, West and Coleen made their vows in church. Groomsmen wore barong while West's parents wore Chinese traditional clothing. traditional clothing. West and Coleen's wedding attire was also Chinese-inspired with pheonix and dragon designs. West wanted Coleen to wear a Chinese-inspired wedding gown which they entrusted to the creative hands of Edward Teng. The color red, known to symbolize good luck, was their chosen color motif.
The couple especially enjoyed every small detail of their wedding, from conceptualizing, planning and the final execution. Through the help of their wedding planner Zyndee Co, they were able to put everything together with barely 6 months to prepare. It was admittedly tiring but was all worth it when they witnessed how their wedding unfolded perfectly. As they put it:
"Me, walking down the aisle with my parents and seeing my husband-to-be waiting at the altar is definitely one of the most memorable moments for me." – Coleen
"As I'm waiting at the altar and saw my wife-to-be as the door opened…it is really so memorable that I felt I'm the luckiest man in the world." – West
To West and Coleen, it did not matter how they were different from each other. Every element of their wedding was to make sure that their wedding will be most memorable to each other. Celebrated twice, their marriage proves that marriage and love knows no race or color.
Wedding Suppliers
Bridal Hair & Makeup Services
Leo de Castro
Wedding Attire: Bridal Gown
Edward Teng Couture
Wedding Caterer
Josiah's Catering
Wedding Entertainment
The Sentimental Groove 
Wedding Favors, Souvenirs
Partypics
Wedding Florists & Stylists
Scenta Flora
Wedding Invitations
Paperflair
Wedding Photographer
Dino Lara Photography 
Wedding Videographer
Threelogy
Wedding Planners
Zyndee Co – Special Events Consultant
Wedding Reception
Fernwood Gardens
Visit Kasal.com Supplier Directory for the contact details of these wedding suppliers.
Comments
comments