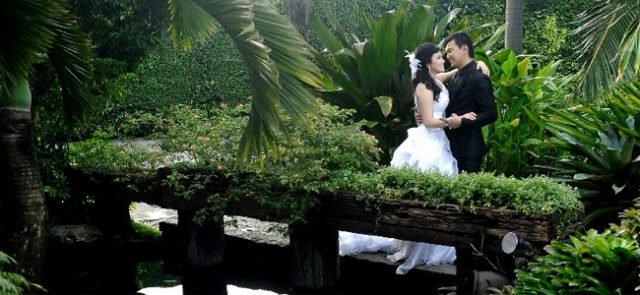 By Rey Belleza | April 2013
Not too many wedding venues offer extra amenities. These extra amenities may include additional rooms not mentioned in the package or gardens for photo shoots. Usually, it is what is paid or requested that is provided. Thus, it is an advantage if the venue offers this kind of amenities as this ensures a smooth-sailing celebration. And there is no guarantee even if you find a great hotel or a high-end resort. While hotels and resorts have the capability to provide the couple with comprehensive packages, it is not an assurance that they can cater to the couple's needs. Ordinarily, only the basics are available. And even if there are extra amenities you would have to pay more. Therefore, it is best that you plan on this detail well.
The reality is that couples do not have the same needs. Some couples resort to improvisation by making use of existing venue set-ups rather than transfer or just add things that they need. And there are those who would spend a lot just to have a complete venue. These are hassles on the part of the couple. But why stay in a venue with limited amenities or in a complete but expensive one if you have better and affordable options?
It is good thing that there is Gazebo Royale, a one-of-a-kind wedding venue at the heart of Quezon City. Gazebo is a place of extras. Born out of a request of a client in their landscaping business for a garden wedding, Gazebo has evolved ever since. It has become a must-sought wedding venue for couples who would like a garden-themed wedding and a fresh ambiance for their special day. Ponds, gardens, or landscaped background, name it and they all have that you need for an extraordinary wedding reception.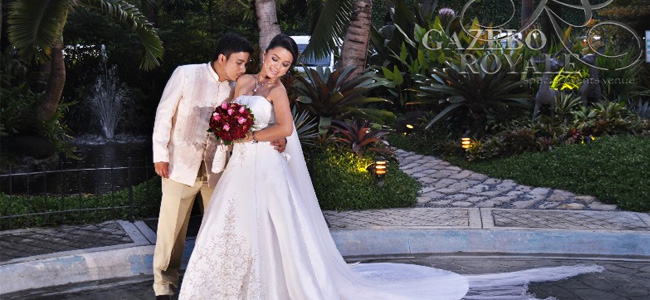 Gazebo sits in a strategic location at Visayas Avenue Extension. It is very accessible to the main highways and thoroughfares. Accessibility is important not only in terms of travel time from the church to the venue but also for the comfort of guests especially if they are VIPs.
Landscaped amenities are also unique features in the gazebo. Greens, ornaments, fountains, waterfalls, and ponds adorn the place the reception areas and other spaces. This gives the wedding photographer and videographer another dimension in their coverage. More importantly, a peaceful, romantic, and elegant but homely ambiance welcomes both the couple and guests alike.
The three reception halls are specially designated based on their unique concepts. The Champagne Hall, the biggest of the three at 900 square meters, can accommodate up to 700 guests. Weddings with not more than 280 guests will find comfort and relaxation at the Phoenix Avenue with its lush greens and ambient lighting and talented wedding performers, while the Bamboo Grove's glass-in construct is perfect for intimate weddings.
In a manner of speaking, this lush venue has redefined the word "gazebo" as they provide not just pleasant views but also first-rate facilities to make your wedding banquet incomparable. Indeed, the name Gazebo Royale is a perfect coinage. Discover more about Gazebo Royale on Kasal.com.
Comments
comments