by Jett Pe Benito
Louie Ben Lareza lit his wedding with memories of their relationship and…an unusual lights design. And who can design the concept better than Louie, who was the creative consultant of Forsc Ink Lights & Sound for several years?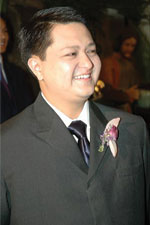 Louie, currently an independent consultant, designs lights and sound requirements for events and assists clients in getting the needed technical equipment. As Louie describes, "I suggest what technical equipment clients would need based on the motif they have in mind. If budget is a problem, I help the couple design the nearest look, ambiance for their dream wedding."
And with this professional background, Louie was able to come up with the perfect lights design for his own wedding.
The Design
Like any to-be wed, he also wanted his wedding to be unique and special.
He noticed that couples would often create wedding theme with just the flowers and table setups in mind. Common lighting would be shades of yellow for daytime weddings and pink or red for night celebrations. His, however, used the colors of dawn.
The rich, elegant color range from lilac to pink were the motifs for the flower and table styling as well as the event lighting.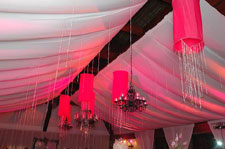 Concerns
Louie and his wife, Cheekee, met 9 years ago through Youth for Christ, a community under Couples for Christ. At one point, theirs became a long distance relationship as Cheekee decided to pursue further studies abroad in her pursuit to become a doctor.
When they have finally decided to get married, it was obvious that Louie would have to do most of the wedding planning – not only because Cheekee was busy with her internship but also because Louie would know better the requirements.
As Louie was still active in Forsc Ink then – doing an average of 3 big events a week – he did not have the luxury of long, leisurely wedding planning.
"One of the major problems we had was making our schedule meet between suppliers and deadlines because of the demand of our own respective work schedules. We initially wanted an out-of-town wedding to keep it intimate. However,
we considered the requirements and logistics, and we settled for what will be more convenient for us and our supplier friends."
It also didn't help that theirs is a December wedding, which is considered to be the busiest month for wedding suppliers. In fact, during the week of his wedding, he could not even take leave and had to take care of another project engagement.
Another problem he encountered was fitting the number of guests in the reception venue. They initially targeted 300 guests but it ballooned to 500 a few weeks before the big day!
Sound Advice
According to Louie, the best advice he can give is to "carefully select your wedding suppliers, and to trust them to do their respective jobs."
"The real secret of time management for me was just making the right calls and trusting the experts to do the rest for us. We did not have a lot of time and we can't do and worry about each and every detail."
It also helped that they already had a motif in mind and were honest on what they had and how much they were willing to spend.
True enough, they got the results they wanted even though they just finalized the details barely 2 months before the wedding.
With the help of their wedding coordinators, they were able to make the layout fit the number of guests and still have space for buffet tables.
"It is not wrong to change things during the duration of wedding preparations but we should come up with a deadline for everything."
Last but not the least, "Pressures on family and decision making are all part of it but the end result is that a wedding will happen. Tita Rita and Carol Sevilla's tip to me was to keep on smiling. It was a celebration after all."
And to make the occasion more memorable, souvenir picture frames were made personal by the photo inside of the recipient and the couple. Louie and Cheekee put in time and effort to make each souvenir not only unique but meaningful to each of their friends and relatives.
More than the lighting, more than the styling, Louie and Cheekee wanted their family, relatives and guests to remember them and the memories they shared with them.
Comments
comments