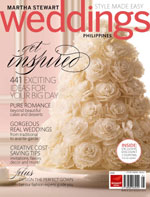 Planning a wedding starts with being inspired. It's about discovering the gown design that will set your heart aflutter, or seeing beautiful, real weddings that inspire you. It's about looking outside and around you. To a favorite memory, an awesome sunset, or a love for a certain culture. Inspiration can strike at any moment and can come from the most unexpected places. This March, Martha Stewart Weddings, the best bridal magazine in the Philippines, shares 441 inspired ideas for your big day.
See what other couples have done on their big day and make it your own, as Martha Stewart Weddings Philippines showcases gorgeous real weddings that range from the traditional to the avant-garde. The March-August 2010 issue also features fashion experts Rajo Laurel, Jojie Lloren, and Sassa Jimenez who give you valuable pointers on designing the perfect gown.
Wedding on a budget? Martha Stewart Weddings shares creative cost-saving tips for your invitations, favors, décor, and more. The latest issue also comes with a FREE bridal booklet that offers exclusive discount coupons from top wedding suppliers.
Martha Stewart Weddings editor-in-chief Tata Mapa offers a word of advice to brides-to-be "In case, things get too hectic, take a deep breath and remember: You are about to walk down the aisle and marry the love of your life! Now, isn't that the most inspiring thought of all?"
The latest issue of Martha Stewart Weddings Philippines is available in newsstands, bookstores, and supermarkets nationwide.
Comments
comments