Hundreds of wedding and portrait photographers from all over the world will convene at the MGM Grand Hotel and Conference Center in Las Vegas, Nevada, USA for the Wedding and Portrait Photographers International (WPPI) EDU Convention on February 12-19, 2009 in conjunction with the WPPI 2009 Trade Show on February 14-19, 2009.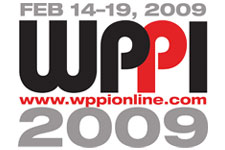 The annual WPPI Convention & Trade Show, the wedding photography industry's premier expo and educational conference, features a variety of events, exhibits, presentations and workshops showcasing the world's top wedding, portrait, commercial, lifestyle-social and fine art photographers, retailers, manufacturers and suppliers. This year, over 130 different classes, workshops and seminars, headed by world-renowned photographers in the industry will be offered. Furthermore, almost 300 companies will present their latest products and services for the Trade Show.
On February 15, golf enthusiasts can join the WPPI 2009 15th Annual Golf Tournament to be held at the Desert Pines Golf Club in Las Vegas. In the evening, the official opening of WPPI 2009 will happen at the WPPI & Canon Wedding and Welcome Reception. The reception will have a completely staged wedding, photographed by photography legends Joe Buissink, Bambi Cantrell, Jerry Ghionis, Denis Reggie and Yervant.
The winners of the 2009 WPPI Awards of Excellence Print and Album Competition along with the four winners of the 8 x 10 International Prints of the Year Competition will be announced during the WPPI and Kodak Awards Reception on February 18, 2009.
For inquiries and to register online, visit http://www.wppionline.com/
The WPPI Convention & Trade Show is held in association with Rangefinder Publishing and AfterCapture Magazines and sponsored by Canon, Kodak, Miller's Professional Imaging, Nikon, Epson, White House Custom Color (WHCC), FujiFilm, B & H Foto & Electronics Corp., Bayphoto.com, AsukaBook, Adobe, Mitsubishi Digital Electronics – Photo Imaging, Graphistudio, Lexjet, Hewlett – Packard, H&H Color Labs, Simply Canvas, American Color Imaging (ACI) Photo Lab, ImageQuix, Adorama, Doug Gordon Workshops, SLIK, Tokina, OnOne Software, Zookbinders, Photodex Corp., Black River Imaging, LiveBooks, MAC Groups, Profoto, Lensbaby, Backgrounds by Maheu, Pounds Photographic Labs, Inc., Calumet Photographic, Power Consulting, Burrell Color Imaging, Clickbooq, Datacolor, Eventpix.com, Denny Mfg. Co., Inc., Tamrac, Natural Color Lab, X-Rite, Pictage, Inc., Marathon Press Inc., LustreColor Inc., Colorati, Photo Biz, LLC, GP Albums, and Blossom Publishing.
Comments
comments